Change of Button With the New King
Topic: Militaria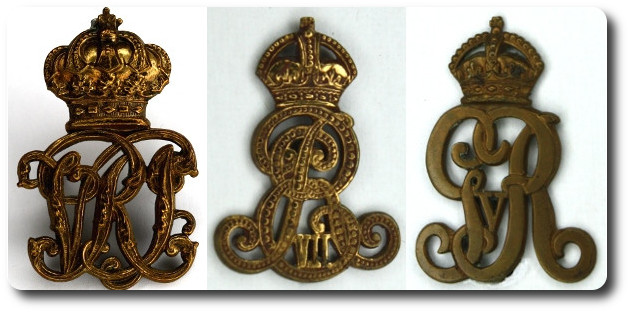 Change of Button With the New King
Letters "E.R.I." Must Give Place to "G.R.I." on all Uniforms
The Evening Record, Windsor, Ontario, 21 May 1910
"At the time of the German warship's [Huerta] visit [1 October 1913], consideration was being given to the Regiment's badges. The designs bearing the V.R.I. cypher of Her Majesty Queen Victoria were still in use in some instances, but had been replaced in others by types bearing the cypher of His Majesty King Edward VII or that of His Majesty King George V. A number of designs were submitted to Lieut.-Col. Fages, but no decision was reached until, as mentioned later in this book, the point was eventually settled by the restoration to the Regiment of the right to use the V.R.I., "in memory of the Sovereign in whose reign the unit was raised and in view of the services the Regiment rendered in the Great War." - (pp. 193, The Royal Canadian Regiment; 1883-1983, R.C. Fetherstonaugh,1936)
"V.R.I." altered nine years ago to "E.R.I.," must now be changed to "G.R.I." on the buttons and badges of those in the service, military or civil, of the British governments.
Every button on every serge and tunic and service cap in the active militia of Canada, every helmet and cap badge in the Royal Canadian regiment (sic), and many other corps as well, has been displaying in monogram form that Edward VII was Rex and Imperator, just as they were used to announce to the world that the wearer owed allegiance to Victoria, Regina and Imperatrix.
Postmen of Canada wear the royal monogram on the collar as well as on brass buttons. It is invariably found on the uniforms of customs officers, and sometimes on police buttons. As new clothing is ordered for these the new buttons will appear. In the case of soldiers of the permanent forces, the old buttons will be replaced before new clothing is needed. As soon as the "G.R.I." buttons are to be had by the regimental tailor the change will begin to take place.
Customs, parliamentary and other government stationery usually bears the monogram prominently, and here a change is due in new supplies.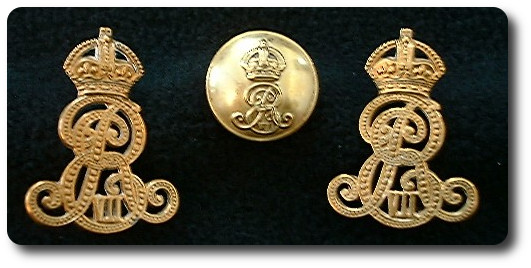 Posted by regimentalrogue at 12:01 AM EST