Brother Officers
Topic: Officers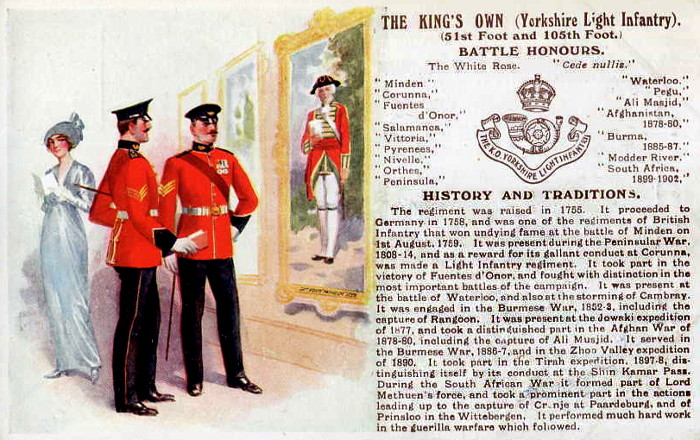 Brother Officers
The Age, Melbourne, Australia, 1 July 1939
Two men, who had served as officers in the same regiment in the Great War met again on May 6 last in the Greenwich police court. One of them, Mr. Frank Powell, sat on the bench as the presiding magistrate, and the other, George Robertson Lightbound, stood in the dock charged with obtaining £1000 by fraud.
The magistrate did not recognise Lightbound as a brother officer until Detective Sergeant Hare read out his record. The detective said that the prisoner was educated at a public school and military college. His relatives held responsible positions in Canada. He retired from the Canadian army with the rank of major, and became a district magistrate in South Africa. At the outbreak of the Great War he went to England and obtained a commission in the King's Own Yorkshire Light Infantry.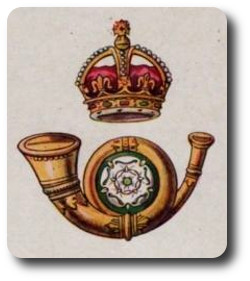 Mr. Powell interjected, The Yorkshire Light Infantry! I was in that regiment myself. I remember the man now.
The case against Lightbound was that he had obtained £1000 from his employer, a printer, at Catford, by pretending that he was entitled to a share in an estate in Canada.
The magistrate, in sentencing him to 12 months' imprisonment, said with some emotion, I never thought it would be my lot to sentence a brother officer.

George Robertson Lightbound
A few notes on the early military service of George Lightbound can be gleaned from online files at the Library and Archives Canada, and the Canada Gazette:
A mining broker in Montreal, George Robertson Lightbound was serving in the 3rd Regiment, Victoria Rifles of Canada, when he enlisted on 26 October, 1899, for service in Canada's First Continent in the South African War. As 7795 Pte. G.T. Lightbound, he served overseas as a private soldier in the 2nd (Special Service) Battalion of The Royal Canadian Regiment.
Completing his service with The RCR in South Africa and discharged on 4 November, 1900, Lightbound was awarded the Queen's South Africa medal with three clasps; Paardeberg, Dreifontein, and Cape Colony.
George Lightbound returned to South Africa as an officer in the South African Constabulary. The Canada Gazette of 14 April 1901 notes that Provisional 2nd Lieutenant G.R. Lightbound, having been appointed to the South African Constabulary, his name is removed from the list of Officers of the Active Militia, 21st march, 1901. His service with the SAC would add a fourth clasp, Transvaal, to his medal.
Having returned to Canada, and to the Victoria Rifles of Canada, after serving in South Africa, Lightbound resigned his commission in the Canadian Militia on 25 March 1909.

A litle more information can be gained from a post on the Great War Forum by member Granite-Yorkie:
I've just been digging around- I'm guessing that officers holding temporary commissions could not resign their commissions per se, so instead they relinquished their commissions.
I've come across the case of Alfred E. Swann, late Natal Police, who served with the Yorkshire Light Infantry- who "relinquished his commission" after receiving an adverse report from his Commanding Officer. A more interesting case, referred to in passing in the memoirs of Basil Liddell-Hart, was that of George Robertson Lightbound—who relinquished his commission in the Yorkshire Light Infantry on 11th September 1916, shortly before being sent to prison for embezzling the battalion mess-funds (Liddell-Hart refers to the 11th's 2i/c—not by name—but it happened to be Lightbound; being a "foul-mouthed bully, later sent to gaol for embezzling embezzling mess funds": Memoirs, p.12). Lightbound was also jailed for fraud in the 1930s, the magistrate who sent him down happened to be Frank Powell, who had served as a 2nd Lieutenant with Lightbound after being gassed at Loos (Powell was in the 9th Battalion).

Posted by regimentalrogue at 12:01 AM EST