Capt (A/Major) Joseph Hemelryk, M.C.
Topic: Remembrance
Capt (A/Major) Joseph Hemelryk, M.C.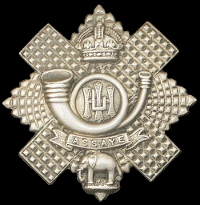 The Highland Light Infantry
53rd (Welsh) Division
When we think of Canadians at war, we tend to focus on a narrow set of well recognized names; among them Vimy and the Somme, D-Day, and more recently Afghanistan. But in our popular memory of Canada at War, there are so many other places, dates and people—soldiers, sailors and airmen(women) who served around the world— we overlook. Their stories have been easily forgotten because they do not coincide with one of Veterans Affairs Canada selected commemoration dates, or because the unit(s) involved may no longer exist or have a perpetuating active regiment. In many cases, such instances that do get mentioned can be either well-known, because of a family or personal research connection, to a listener or be completely unknown, in part because they have not entered the repetitious stream of media coverage of our country's past conflicts.
One of those lesser known contributions is the CANLOAN, Canadian officers and non-commissioned officers who joined the British Army in North Africa. On 5 January, 1943, it was announced that a detachment of Canadian officers and non-commissioned officers had landed in North Africa. These soldiers, the first of the CANLOAN program, would receive battle experience with the British forces, after which many would return to serve in their parent Canadian regiments, while a few would continue to serve in the British Army. Captain Joseph Hemelryk was one of these.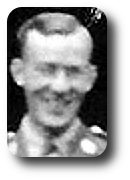 Hemelryuk was the younger son, out of two boys and five girls, of the children of Lt.Col. George Edward Hemelryk, OBE, JP (1881-1967), and Elizabeth Mary Smith (?-1943), of Dyserth, Flintshire, Wales. Having emigrated to Canada, he would join the Canadian Militia, being commissioned into the Royal Canadian Infantry Corps and serving with the Dufferin and Haldimand Rifles before the Second World War. Joseph Hemelryk shows up twice in newspaper accounts discovered by Google archives searches. In one, published in the Ottawa Citizen on 4 September 1943, we are informed that among thousands of Canadian proceeding overseas, Captain J. Hemelryk of Brantford, Ontario, is "returning to Britain for the second time in this War."
The second newspaper mention is more sombre. Again in the Ottawa Citizen, with a publication date of 10 May, 1945 (two days after V-E Day), the sad news is presented in black and white: "Major Joseph Hemelryk, brother of Mrs. June Iley, Perth," listed as Killed in Action. This notice is listed immediately under a photograph of Lieutenant General Charles Foulkes accepting the German surrender in the Netherlands.
Capt Joseph Hemelryk, at the time of his death, was serving with the 1st Battalion, The Highland Light Infantry in the 71st Infantry Brigade, 53rd (Welsh) Division, 30 (British) Corps. His death on 14 April 1945 came one month and ten days after the actions for which he was awarded the Military Cross.
As a Canadian, the citation for Hemelryk's Military Cross (Citation card PDF) can be found in the online holdings maintained by the Canadian Armed Forces' Directorate of History and Heritage.
Capt (A/Major) Joseph Hemelryk (Can Loan)
Recommendation for the Immediate Award of the Military Cross.
1st Battalion, The Highland Light Infantry
71st Infantry Brigade
53rd (Welsh) Division
30 Corps
This officer was in command of the right forward company of 1st HLI when the battalion was ordered on the night of March 4th to gain part of a bridgehead astride the main roads in the woods N.E. of ISSUM (1926) in order to cover a bridging operation to allow the armour to advance toward the RHINE. In order to reach this objective he had to advance uphill over open ground swept by MG fire from spandau posts in the forward edge of the wood. In spite of the fact that both flanks of his Company were exposed to heavy and accurate MG fire, the Company on the left having been held up short of the wood, he put in a well organized assault on the enemy positions in the wood and succeeded in breaking through to his objective. Although this position became almost untenable by daylight as a result of an enemy counter attack astride the road on his left, Major HEMELRYK kept his company in good heart by his personal coolness and disregard for his own safety. Throughout the day of 5 Mar from exposed position under continuous mortar and small arms fire he accurately directed artillery and S.A. fire on enemy SP guns, MG posts and a tank which was little more than 200 yards from where he was.
It was largely due to his tenacity in holding such an isolated position, fine leadership and skill in directing fire under most difficult and dangerous conditions, that the bridgehead achieved its purpose and the armour was able to get through.
Joseph Hemelryk makes a case in point for how easily the memory of Canadians soldiers, including those who have paid the ultimate sacrifice, can slip from our societal memory. He served in a Canadian Militia regiment that was converted to artillery in 1945 and its name lost in an amalgamation in the 1950s. He served overseas with the British Army and remained in the CANLOAN program, thus no Canadian regiment records his service and sacrifice among their rolls or remembers his service.
Joseph Hemelryk served his new country with as much dedication and commitment as any more popularly recognized soldier. He too, deserves to be remembered, as a Canadian, as a soldier, and as a fallen hero decorated for his actions in the face of the enemy.
Pervias Rectus — Always Alert

(motto of the Dufferin and Haldimand Rifles of Canada)
Montis insignia Calpe — Badge of the Rock of Gibraltar

(motto of the Highland Light Infantry)

Posted by regimentalrogue at 12:01 AM EDT
Updated: Monday, 22 June 2015 12:10 AM EDT