Charging Trench Easier Than Holding It

Charging Trench Easier Than Holding It
Takes the Disciplined Soldier to Stand the Shelling
Capt. Albert Ernest Horsman Coo
Albert Coo served in France with the 27th Canadian Infantry Battalion from 21 May to 12 Nov 1917. He was wounded in the leg at Passchendaele on 6 Nov 1917, an injury which left him unable to return to front line service.
---
Capt. Albert Ernest Horsman Coo, Inf. - For conspicuous gallantry and devotion to duty. He led his platoon to the objective, and in spite of casualties succeeded in consolidating and holding the position against heavy odds, until he was severely wounded. His cheerfulness and courage were an inspiration to his men under heavy machine-gun and artillery fire, and were the means of holding the platoon together and inflicting; heavy losses on the enemy during the attack. - London Gazette 25 April 1918
The Milwaukee Journal, 22 February, 1918
"It is easy enough to teach men to charge—to get out and take a trench—but the greatest difficulty is to train men to stand the shell fire after they are in their new positions," said Capt. A.E.H. Coo, who is in Milwaukee visiting his wife and children at the home of her mother, Mrs. Thomas Delaney, 111 Eighth-st.
Capt. Coo is a member of the Twenty-seventh Canadian overseas expeditionary force [sic] and is on a leave of two months as a result of being wounded in action. He has served in France and Belgium two years.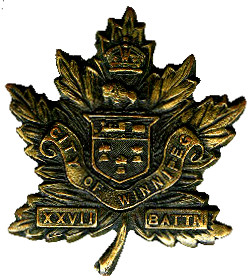 Troops need Experience
"The training that the Americans get in this country will be almost valueless," he said, "The real training consists in getting used to the hard knocks after they get over there. The Americans are bound to have reverses until they get used to the discipline of warfare. They are less used to discipline than the English and will probably make the same errors that the green Canadians did. With orders to take the next line of trenches only, they would go farther down the road and extend their conquests and would not be able to hold any of their new positions.
"After they are trained the soldiers from the states are bound to make good. Probably of all troops the English soldier is the easiest to train. He is more used to discipline and accustoms himself tio orders easier.
Must Stand Shell Fire
"Green troops are easily taught how to charge. But as soon as they have taken a position the Germans start shelling the place, and unless the men have been especially trained to stand this they will flee to their original trench. This training cannot be given in America. It is necessary to take the troops to the actual firing line to get them used to it."

Posted by regimentalrogue at 12:01 AM EDT