Trench Training
Topic: CEF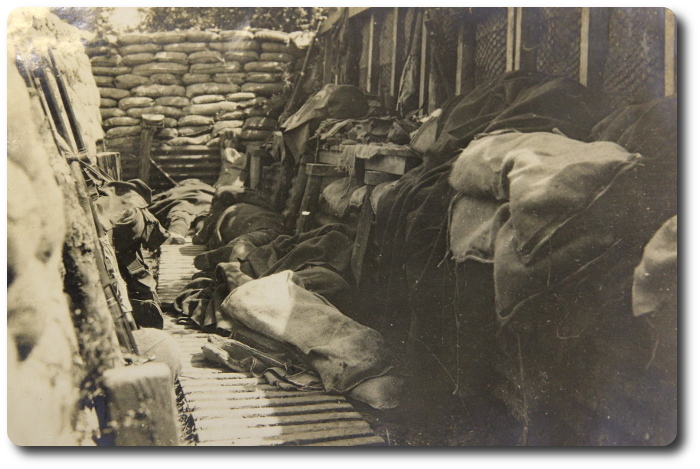 Trench Training
How it is Carried On At Liverpool
Practical Work
Note: Although this article is sourced from an Australian newspaper (and may be about a training camp at Liverpool, England, or Liverpool, Australia), I've tagged it as "CEF" to group it with other First World War items in The Minute Book. The experiences of soldiers and evolution of training followed similar paths for British, Canadian and Australian forces diuuring the Great War.
The Sydney Morning Herald, 19 January 1916
It has been recognised during the present war that the old manner of drilling soldiers in long lines, or even teaching them to form the hollow square—so successful against native attacks when dealing with coloured enemies—has had to be abandoned. To-day once the soldier understands the platoon and extended order drill and the real meaning of the word "discipline" he is initiated into a class of warfare never dreamed of before. Shooting, of course, is an essential part of his training, but there has been added to this the work of the navvy and the cricketer. He is instructed in the art of trench digging at night. He is also taught to throw bombs and to catch them, and return them whence they came, if, in the meantime, they have not exploded.
When Liverpool camp was first established a series of trenches were dug on the eastern side of George's River in a line with the field hospital, and formed a show spot in the camp on Sundays and holidays when relations and friends trooped out there by the thousand. They were ideal trenches—for visitors—but were useless from the point of view of the man at the front. They were fine and roomy, and conveyed the impression that to line in them must mean to the men one long picnic.
Lessons From the Front
Then some officer at Gallipoli or in Flanders or France sent along some exact drawings of trenches as they really have to be dug in the fighting which goes on to-day, and all the ideas of those who had been instructing recruits in the science of underground warfare were suddenly and completely "knocked higher that Gilderoy's kite," and a readjustment of the work had to be made. Those "Sunday afternoon" trenches became things of the past. They may have taught the prospective fighter how to dig, but they were not the real thing, and they had to be promptly discarded.
Trenches, in the fighting now being waged, are not attractive, neither are they commodious. They are severely utilitarian. They are not dug during daylight, but after nightfall, and, as far as Liverpool camp is concerned, they are not one of the show features, being situated a considerable distance from the main camp in a paddock that runs down to a thick belt of bush on one side and on the other three sides has small patches of scrub, which would form ideal shelters for snipers if they chose to dig in behind them, as the Turks did at Gallipoli.
The officer in charge of the depot training school took a "Herald" reporter to see these trenches, and explained their construction, if one can use such a word with regard to excavations. Coming across the paddock suddenly and without having previously been warned that it was a care of "ware trench," the ordinary visitor would not know that those innocent mounds of dried turf hid a perfect network of trenches. Reaching the summit of the first mound one looked into a narrow pit 5-feet deep that seemed to lose itself in a kind of maze or Chinese puzzle.
Method of Construction
"Every part of the trenches must communicate with every other," explained the officer, "even if they extend for miles, and they must be so constructed that attacks from any quarter can be repulsed. We don't dig them in one straight line, as many people suppose, for the simple reason that we must be prepared for either flank or rear attacks. We don't dig them wide and deep, either, but in a sort of Grecian key pattern, so that if a shell explodes in one portion of the trench only the few men in that portion are placed hors de combat.
"To explain the trenches as simply as possible," continued the officer, "we make the men dig them down till the level of the ground is up to their shoulders, and the excavation is only as wide as their shoulders. This means a depth of five feet with a width of 18 inches. The fire trench is generally 15 feet in length, and then comes the traverse. This is a resisting block of land left on either side of each firing trench, but connected with it by a trench running round the rear. This block of land, which is about six or eight feet thick, is considered shell-resisting, or, as I explained before, it serves to prevent a shell falling in one fire trench harming the men in the next one. 'In other words, it is the armour-plating. In the fire trenches three dugouts are driven from the base forward towards the enemy lines, and these can be utilised as resting or sleeping quarters, and are practially impervious to either shell or rifle fire. These sleeping holes are driven in 13 feet.
Soldiers' House in War
"Behind the fire trenches is an observation trench, connected with the fire trenches by the same narrow slits in the earth, and behind these again run the communications trenches which zig-zag in and out to minimize the danger of officers of men moving up and down then being harmed by enemy fire. Should a man be bowled over in the trenches either by shell, bomb, or rifle fire, they are so constructed that, in spite of their narrowness, he can be removed on a stretcher to the communications trench, and so to the rear, where he can be attended to by the ambulance men.
"There is one other point I wish to impress upon you with regard to why we now dig in in such close quarters," added the officer. "Hostile aircraft above the trenches we dug in the early days of the camp could have spotted those trenches almost as clearly as they could George's River, but these new trenches, built on the lines of the experience gained in actual warfare, thanks to what we have learned from returned officers and men, are so narrow that it would take a smart pilot flying at over a thousand feet to distinguish them from their surroundings, which we make and keep as natural as possible.
"The men are taken out and taught to dig themselves into these trenches at night, where they often sleep and have their meals, and then we have given them further instruction and lectures on the why and wherefore during the hours of daylight. So much depends on how quickly men can dig themselves in now that trenching is one of the most important items in the training of every man who joins the A.I.F., and this portion of his training is as thorough as the experience of the staff can make it, thanks to the information forwarded by those daily and weekly living and fighting in trenches at the front."

Posted by regimentalrogue at 12:01 AM EDT