Trench Life very Different from Past Wars
Topic: CEF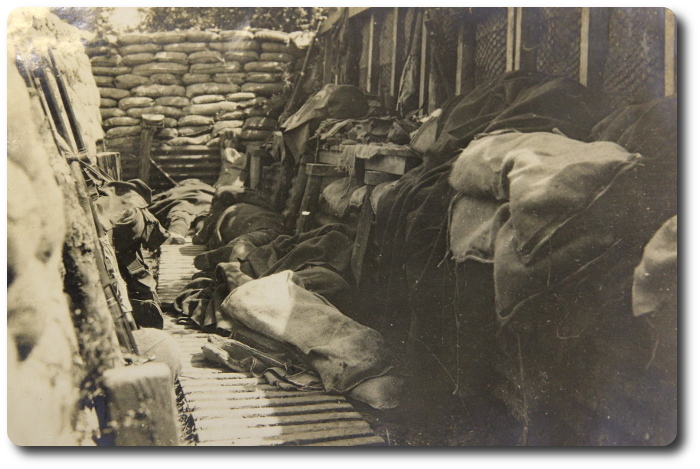 Picture of Trench Life that is Very Different from War in Other Days
The Deseret News, Salt Lake City, Utah, 23 June 1917
(Special Correspondent)
London, June 13.—The British infantryman in the trenches in France, where he will soon be joined by General Pershing's soldiers, live all his days and nights in danger. If he goes for six months unhurt he is an object of curiosity, a man with a strange fortune.
His working hours are governed only by the limits of his strength, yet he grumbles merely by way of diversions, for his desire is to win this war, and nothing else very much matters. If you were to ask him how he was winning the war, he would tell you, in his ironical way, that, so far as he could see, the way to win the war was not by fighting, as some who had never seen war, mistakenly thought, but by working, and that life for him was one long interminable working party. He would also tell you some entertaining things about them, for they are of endless variety.
There is nothing in the trenches that pays more than hard, well regulated work. In this way in a few weeks a miserable ditch can be transformed into a model habitation, complete with reception rooms, bedrooms, and all modern conveniences. Take as instance the largest and most enterprising work party on which a certain battalion was ever engaged. Its orders were simply to march out half-way across "No Man's Land" and dig there an entirely new trench complete with barbed wire entanglements, firestep and communications trenches. This task was accomplished in two nights, and remarkable as it may sound, with no casualties.
"Tommy's" private opinion was that "Fritz" was too much frightened by the mysterious something that was going on out there in the darkness, to fire straight. These trenches were subsequently revetted and equipped with dug-outs. Soon they became flooded, knee-deep in mud and slush and had to be drained day and night with scoops and pumps. Later they were furnished with scaling ladders and an attack launched from them. Still later they were completely obliterted by an enemy barrage and were entirely re-built more strongly than ever. There is always work for working parties in this changing world.
Work While They "Rest."
You might think, since war is nearly all working parties, that when a battalion "rests," it "rests" from working parties. But this is not so. On the contrary. Being comparatively fresh, a battalion "resting" is regarded as an ideal source of labor supply. A five mile march "there" at dusk and a five mile march "back" at dawn, irrespective of weather conditions, is very often how the night passes when you go to "rest."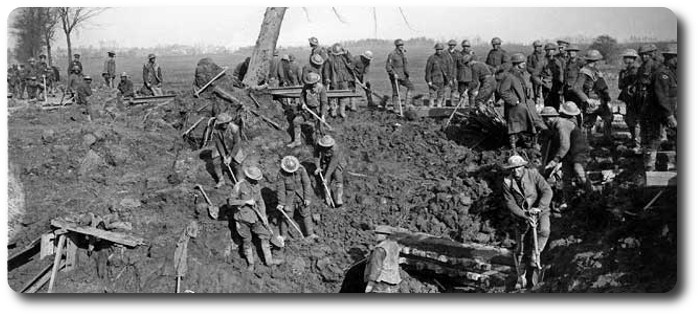 Wire can never be too thick. That is one of the laws of working parties. Twenty men plus a "covering party" of say five men and an N.C.O. is an average size wiring party for a single Company frontage, making 100 men for the battalion. But if the wiring is urgent, it may be necessary to double or even treble these numbers. You must be a good soldier and well trained to do wiring properly. The knowledge that he is standing upright in the open without a vestige of cover, with machine guns, rifles, shrapnel, high explosive and "minnies" blazing all around, often tends to make it difficult for a man to concentrate his mind on what he is doing. Then the wire has a peculiar tendency to get entangles; the metal-work, screw-pickets clank together like church bells; the tin flaps at the sides of the coils clatter and scrape enough to rouse the dead, or so it at least seems to the wiring party as it gets to work in the open.
Almost equally important trench work is revetting; that is to say, strengthening by means of stakes, angle irons, wire netting, and sandbags, the walls of the trenches, the firestep and parapet, Unless a firestep is revetted almost at once it will quickly crumble away, and it is an only less urgent work to revet the trench wall and parapet. Rain plays havoc with a trench and it is far more difficult to repair a fallen-in section than it is to revet strongly in the first instance. Sandbag revetting is perhaps the most important of all, but like other simple things, a mystery until you know the way, for unless you know the way, bags piled on the top of one another with whatever care you do it, will bulge and collapse in two days. But by the proper use of "headers" and "stretchers" by keeping "chokers" turned inwards; by not filling the bags too full, and by properly "binding" angles and corners, you will make a sandbag revetment that will endure. Good revetting is a work of art.
Lively When Targets Appearance
It is most eerie of all when you must work standing at two or three paces interval along the top of the parapet, for then you become silhouetted against the sky or the glare of the enemy flares. A night may be as serene and quiet as paradise; but place half-a-dozen with pick and shovels on the parapet, and in two minutes it is as though there were a frontal attack in progress. In no other form of working party is the call more often heard of "pass the word for the stretcher-bearers."
So the nights pass. Hardly a trench or communications trench is without its own particular workers, and all are employed simultaneously. In one spot there may be pumping, in another revetting:—in another section of trench that has blown in during the day is being re-built; in another a party is deepening and widening; in another digging "sumppits;" in another constructing dug-outs. In yet another endless streams of carrying parties go past—some with engineers' materials, some with rations, some with mails, some with ammunition. But in every trench some working party is at work.
While all this is in progress the vigilant look-out is never for one moment relaxed. Each "post" and gap is properly provided with its look-outs and their reliefs (on urgent occasions—as at Loos and the Somme—even the sentries had to put in a spell of work during their "2 hours off"); the scouts have to make their usual excursions; the Lewis gunners carry out their fire orders, the company signallers are continuously linked by wire with the battalion headquarters, the officers on duty ceaselessly patrol their company lines, the bombers, the machine gunners, the trench mortar batteries, and behind all the artillery, are always in the alert. Everyone knows exactly what to do in case of a gas alarm or an attack; and each man as he works has his gas helmet, his rifle and ammunition ready to his hand.

Posted by regimentalrogue at 12:01 AM EDT