In Favour of Conscription (1915)

In Favour of Conscription
Proposed for Canada—How It Might Benefit
the World, Physically, Morally and Industrially,
Even If War Were Abolished
By E.W. Thomson
Boston Evening Transcript, 24 August 1915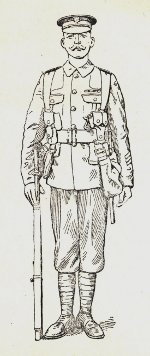 Ottawa, Aug. 23—Here and in Montreal your correspondent has watched for nigh a year the development of young men by military training. Many of them came shuffling into the ranks, somewhat stooped, pallid, enfeebles by loafing and pleasure rather than by work, which seldom harms anybody. Of late the standard of height and teeth and eyes has been wisely lowered a little, wherefore the new recruits look worse in physique than former batches. One change came over Bigs and Littles alike, swiftly rather than gradually, wonderful to behold, All were speedily improved in bearing, complexion, strength, aspect of self-respect and cheerfulness—this came of an excellent preliminary system of setting-up drill. The rapidity with which the men learned the manual of arms, and gained facility in tactical marching and evolutions, surprised one who had previously, for many years, lost few opportunities to watch Regulars and Volunteers in training. This rapidity was due, no doubt, to the fact that Canadian levies to Europe generally mustered a more intelligent sort of man, better educated on the whole, better reared, than commonly enter any regular army or militia force. True, the new levies here are animated by a spirit eager to gain fitness for active service, a spirit which gives them more alertness than men exercised as matter of mere routine. Allowing for this, the display yet vehemently reinforces a belief strong in your correspondent for forty-odd years, viz. that military training is so beneficial to Youth that it might well be required of all they suitably strong human males of any or all Nations, even if War had been put out of prospect or possibility by some all-inclusive League for Peace with general disarmament.

Thereafter the assembling of young men—and young women, too, for that matter—for physical drill, exercise, marching in unity, would be expedient, for the sake of the physical and moral benefits thus obtainable or secured; benefits not to be obtained otherwise, so far as experience has shown. To diffuse these benefits through a purely voluntary system, one leaving entrants free to come in when they may choose, and go out when they may choose, is not possible. The chaps who need the training most won't come in voluntarily; those unstable or likely to be misled by pleasure, or by vicious distractions, won't stay in, even as the less resolute or more erratic boys won't stick to Boy Scout obligations because these are not enforced save by opinion of their compeers. To diffuse the great good accruing from military training it must be enforced by law. That is the sound argument for conscription, here, in the States, and everywhere. That which improves Youth, enhances vigor, and enforces the excellent habit of obedience, spreads benefits throughout the whole Nation, if the service be general, no evasion allowed save for physical incapacity. The Nation is entitled to obtain these benefits by any reasonable means. Public policy requires conscription for military training, or its equivalent. No equivalent has yet been devised. That the Nation may be put to war is a consideration which but enhances the expedicny of such general training, besides being in some sort a consecration thereof.

Consider the groups and throngs of young fellow who may be seen any evening in any city, town, or village of this continent, loafing, deplorable, disgusting, shambling, grinning vacantly, caps or hats on the backs of their seemingly brainless skulls, ogling girls and women vilely, without alertness, mean in bearing, reprehensible pockets of unmitigated democracy! Observe their inanity at the boshful Shows they frequent, their devotion to the more salacious in print and spectacle! How inexpressibly better for them, and all who have to do with them, were they compelled to take military training at least thrice a week, for two or three hours a day, or evening, every man-jack of them, peculiar care being taken that the richer and idler be most strenuously required to attend regularly, under peril of strict punishment. Ten years of that would remodel the American and Canadian people, en masse.
As for the industrial effect—consider Germany and France. I well remember discussions subsequent to the Franco-German war of 1870, when Germans and French alike resorted to a much more general and thorough conscription than they had practiced before. It was contended by Pacifists, by self-elected humanitarians, that Industry must suffer hugely from compelling all men to train and bear arms for from two to three years of what Pacifists were then wont to describe as "the formative period of human life." Germany and France must decline industrially therefrom! England and The States would profit hugely thereby, their young men being free for Industry during that "formative period." What happened? Precisely what was predicted by those who then contended contra to the Pacifists. They allege that the habits of obedience, discipline, physical exertion, associated movement in unity, &c., would better Germans and French industrially, give their Nations long credits in crafts and in commerce. We all know that this prediction proved true. The conscripting Nations flourished industrially far more than ever before. Germans, in especial, fairly jumped forward in manufacture, agriculture, ship-building, trade. While Great Britain and the United States, fancying themselves unhandicapped, relatively lost, though possessing far greater colonial fields and populations than their conscripting rivals. It was really absurd to imagine that industrial efficiency could be promoted as well by generations bred in youth to loafing, as by generations bred in youth to discipline under arms. As for physique and handsome appearance—one of the most disquieting observations arising from this war is that innumerable published photographs of the soldiery engaged show, almost invariably, a wondrous superiority of the Germans in standing, strength, and countenance. Discipline and schooling shine in their faces, as well as devotion, seriousness, and addiction to high music and song. That they so often individually and collectively appear fit aspirants to supermanity, scares me. I refer to the private soldiers. Their officers, in the photographs, commonly look either almost as brutal and able as Von Hindenburg, or almost as insolent as William. Is it not an army of enthralled supermen held down and led by Demons? That is the pity of it.

Conscription seems sure to happen to Great Britain. A very good thing that will be for the British. More particularly for their Pleasure Classes, the Idlers had long made London the Wen of the World; the worthless loafer-wastrels, who won't enlist, will take their whack "as usual," and are truly careless concerning result of the war, feeling confident that any Master who may arrive will let them wallow in their luxurious sties. To muster them all in, and lash them into discipline and seriousness would be a work of philanthropy to themselves.
Conscription is talked of for Canada! It would benefit the general physique, certainly. All right, were they conscribed for service in Canada. But to conscribe Canadians for service in Europe would be quite another pair of sleeves. This Dominion volunteered volunteer troops for the war, one that really concerns us precisely as it concerns the United States' people—of whom we Canadians ever wonder that out\r neighbors can refrain from joining in hostilities against an Autocracy that most seriously threatens to domineer over the World. But we stand in no such relation to Great Britain, nor to the war, as would warrant conscription here for service in Europe. Were general enforced military training in Canada established, the conscribed being free as before to enlist or not to enlist for service abroad, individuals of your correspondent's way of thinking could not but profusely hooray. Its costs would have to come out of the pleasures and luxuries of the Houses of Have-more-than-is-good-for-them. Wherefore it would be a piece of pure philanthropy to them, as well as to the young men of Canada. A Spartan existence all round surely ought to be brought about in these times, as sound Public Policy.

Posted by regimentalrogue at 12:01 AM EDT