BATMEN
Topic: Humour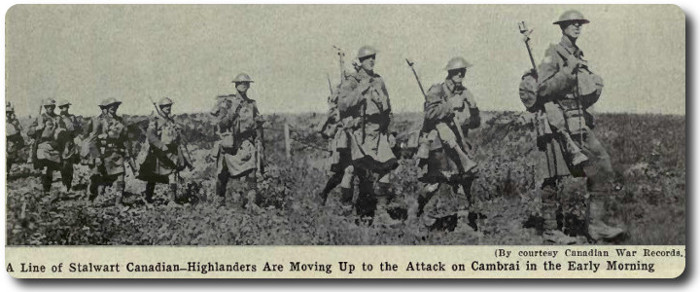 BATMEN
Canada in Warpaint, Capt. Ralph W. Bell, 1917
No man is a hero in the eyes of his own batman. He knows everything about you, even to the times when your banking account is nil. He knows when you last had a bath, and when you last changed your underwear.
This war has produced a new breed of mankind, something that the army has never seen before, although they have formed a part of it, under the same name, since Noah was a boy. They are alike in name only. Batmen, the regular army type, are professionals. What they don't know about cleaning brass, leather, steel, and general valeting simply isn't worth knowing. They are super-servants, and they respect their position as reverently as an English butler respects his. With the new batman it is different. Usually the difficulty is not so much to discover what they do not know, as what they do! A new officer arrives at the front, or elsewhere, and he has to have a batman. It is a rather coveted job, and applicants are not slow in coming forward. Some man who is tired of doing sentry duty gets the position, and his "boss" spends anxious weeks bringing him up in the way he should go, losing, in the interval, socks, handkerchiefs, underwear, gloves, ties, shirts, and collars galore! What can be said to the wretched man when in answer to "Where the is my new pair of socks?" he looks faint and replies: "I've lost them, sir!" Verily, as the "professional" scornfully remarks, are these "Saturday night batmen!"
Yet even batmen are born, not made. Lucky is he who strikes on one of the former; only the man is sure to get killed, or wounded, or go sick! There is always a fly in the ointment somewhere. The best kind of batman to have is a kleptomaniac. Treat him well and he will never touch a thing of your own, but he will, equally, never leave a thing belonging to any one else!
"Cozens, where did you get this pair of pants?"
"Found them, sir!"
"Where did you find them?"
"Lying on the floor, sir," with an air of injured surprise.
"Where!"
"I don't justly remember, sir."
Voice from right rear: "The Major's compliments, sir, and have you seen his new pants?"
"Cozens!"
"Yessir."
"Give me those pants … Are those the Major's …"
"Yes, sir, them's them."
Cozens watches the pants disappear with a sad, retrospective air of gloom.
"You ain't got but the one pair now, sir." This with reproach.
"How many times have I got to tell you to leave other people's clothes alone … The other day it was pyjamas, now it's pants. You'll be taking somebody's boots next. Confound it. I'll—I'll return you to duty if you do it again! … How about all those handkerchiefs? Where did they come from?"
"All yours, sir, back from the wash!" With a sigh, one is forced to give up the unequal contest.
Albeit as valets the batmen of the present day compare feebly with the old type, in certain other ways they are head and shoulders above them. The old "pro" refuses to do a single thing beyond looking after the clothing and accoutrements of his master. The new kind of batman can be impressed to do almost anything. He will turn into a runner, wait at table, or seize a rifle with gusto and help get Fritz's wind up. Go long journeys to find souvenirs, and make himself generally useful. He will even "bat" for the odd officer, when occasion arises, as well as for his own particular boss.
No man is a hero in the eyes of his own batman. He knows everything about you, even to the times when your banking account is nil. He knows when you last had a bath, and when you last changed your underwear. He knows how much you eat, and also how much you drink; he knows all your friends with whom you correspond, and most of your family affairs as revealed by that correspondence, and nothing can hide from his eagle eye the fact that you are—lousy! Yet he is a pretty good sort, after all; he never tells. We once had a rather aged subaltern in the Company whose teeth were not his own, not a single one of them. One night, after a somewhat heavy soiree and general meeting of friends, he went to bed—or, to be more accurate, was tucked in by his faithful henchman—and lost both the upper and lower sets in the silent watches. The following morning he had a fearfully worried look, and spake not at all, except in whispers to his batman. Finally, the O.C. Company asked him a question, and he had to say something. It sounded like "A out mo," so we all instantly realised something was lacking. He refused to eat anything at all, but took a little nourishment in the form of tea. His batman was to be observed crawling round the floor, perspiring at every pore, searching with his ears aslant and his mouth wide open for hidden ivory. We all knew it; poor old Gerrard knew we knew it, but the batman was faithful to the last, even when he pounced on the quarry with the light of triumph in his eye. He came to his master after breakfast was over and asked if he could speak to him. Poor Gerrard moved into the other room, and you could have heard a pin drop. "Please, sir," in a stage whisper from his batman, "please, sir, I've got hold of them TEETH, sir! But the front ones is habsent, sir, 'aving bin trod on!"
The biggest nuisance on God's earth is a batman who spends all his spare moments getting drunk! Usually, however, he is a first-class batman during his sober moments! He will come in "plastered to the eyes" about eleven o'clock, and begin to hone your razors by the pallid rays of a candle, or else clean your revolver and see if the cartridges fit! In his cups he is equal to anything at all. Unless the case is really grave the man wins every time, for no one hates the idea of changing his servant more than an officer who has had the same man for a month or so and found him efficient.
Not infrequently batmen are touchingly faithful. They will do anything on earth for their "boss" at any time of the day or night, and never desert him in the direst extremity. More than one batman has fallen side by side with his officer, whom he had followed into the fray, close on his heels.
Once, after a charge, a conversation ensued between the sergeant of a certain officer's platoon and that officer's batman, in this fashion:
"What were you doin' out there, Tommy?"
"Follerin'."
"And why was you close up on his heels, so clost I could 'ardly see 'im?"
"Follerin' 'im up."
"And why wasn't you back somewhere safe?" (This with a touch of sarcasm.)
"Lord, Sargint, you couldn't expect me to let 'im go out by 'isself! 'E might ha' got hurt!"

Posted by regimentalrogue at 12:01 AM EST