Fighting Spirit
Topic: Leadership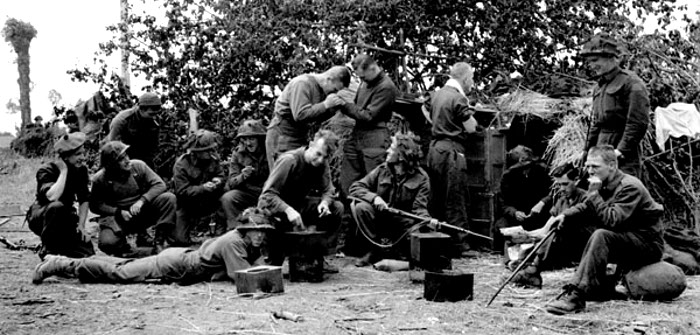 Infantrymen of Lieutenant D.S. Barrie's platoon of The Highland Light Infantry of Canada relaxing during a rest period, France, 20 June 1944. Location: France. Date: June 20, 1944.
Photographer: Ken Bell. Mikan Number: 3205673.
From the Library and Archives Canada virtual exhibit "Faces of War."
Fighting Spirit
Notes From Theatres of War, No. 10, Cyrenaica and Western Desert January/June 1942; The War Office, October 1942
The following is a precis of a short "talk" prepared by a platoon commander in the Middle East before starting a period of intense training. It is reproduced in these Notes as it expresses the true infantry fighting spirit, mental state of determination, and ruthless aggressiveness which must form the foundation of all training, and without which we shall never destroy our enemy.
"From the start this morning I want to make one thing clear. The object of this training is to give you confidence in your ability to carry out any task asked of you.
"The first essential is discipline, the second aggressiveness. You have got to train yourself to think and to act hard, toughen yourselves up bodily and mentally, and start right from this moment. At all times you must be keen and alert. Think about, and live, your job always.
"Most of you have played games at one time or another and you no doubt always followed the code of sportsmanship. Well, now is the time to forget it. You are up against a ruthless enemy who has no code of sportsmanship or honour; he is a trained killer, capable and sure of himself, in perfect physical condition, and all out from the word 'go.' We must beat him in his own style. Blow for blow is no good, you must give him two for every one received. In this war you must kill to exist—that's your motto—KILL TO LIVE.
"You men at the moment are fit, but not fit enough. You are going to be taught fighting, wrestling, and unarmed combat. Throw yourself body and soul into all your work, for physical fitness is the keynote of all your operations.
"Finally, remember, to enable us to play our particular part in this war, we must have aggressiveness, fitness, keenness of mind, and a cold, callous, hard-fighting nature."

Posted by regimentalrogue at 12:01 AM EST