Canadian Soldiers; Courage at Sea
Topic: Canadian Army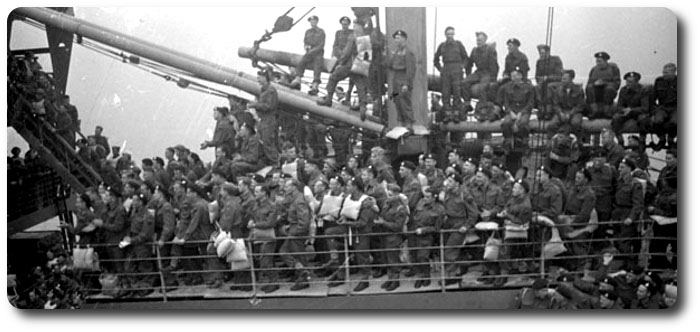 Canadian soldiers aboard a troopship arriving at Greenock, Scotland, 31 August 1942. Photographer: Laurie A. Audrain MIKAN Number: 3203270
Canadian Soldiers Receive Mention for Sea Conduct
Ottawa Citizen; 18 November 1942
London, Nov. 18—(C.P. Cable)—Eighteen Canadian soldiers have been commended in Canadian army routine orders for distinguished conduct when the ship in which they were crossing the Atlantic was damaged in a collision.
The stem of the troopship was damaged above and below the waterline by a collision with another vessel in a convoy bound for England.
The troopship was forced to leave the convoy because the captain fears the forward bulkheads of the chain lockers might give way. When volunteers were called for to help brace up the bulkheads, the 18 Canadian responded.
They are:
L.-Cpl. E.P. Hogan, Nelcon, B.C.,
L.-Cpl. W. Lehmann, Maillairdville, B.C.,
Tpr. J.M. Ewung, Medicine Hat, Alta.,
Tpr. E.J. Godin, London, Ont.,
Tpr. W.C. Guthrie, Tiverton, Ont.,
Tpr. O. Lawrence, Vancouver, B.C.,
Tpr. N. Swift, Vernon, B.C.,
all of the headquarters squadron of the 3rd Canadian Armoured Brigade;
L.-Cpl. W.E. Smith, Woodstock, Ont.,
Tpr. H.E. Jamieson, Port Stanley, Ont.,
Tpr. J. Dowell, St. Thomas, Ont.,
Tpr. W.E. Murray, London, Ont.,
Tpr. F.W. Cole, Talbotville, Ont.,
all of the Elgin Regiment;
Cpl. J.P. Greenought, Halifax, N.S.,
Pte. J.B. Sanford, Truro, N.S.
Pte. J.P. Phiney, Lower Five Islands, N.S.,
Pte. E.S. Davis, Lower Five Islands, N.S.,
Pte. P. McKenna, Charlottetown, P.E.I.,
Pte. H.L. Parks, Four Falls, N.B.,
all of the Canadian Forestry Corps.
Orders said the men gained access to the chain lockers through a manhole in the forecastle and for more than seven hours they worked in small groups in an ill-ventilated, restricted space, knowing there was little chance of escape if the bulkheads yielded of if the ship were attacked by the enemy.
"The commander-in-chief of the 1st Canadian Army has directed that these acts of distinguished conduct be recognized by the promulgation of this order and recorded on these soldiers' conduct sheets," the order concluded.

Posted by regimentalrogue at 12:01 AM EST
Updated: Monday, 15 December 2014 12:08 AM EST