Battle Honours Supplementary List 1929
Topic: CEF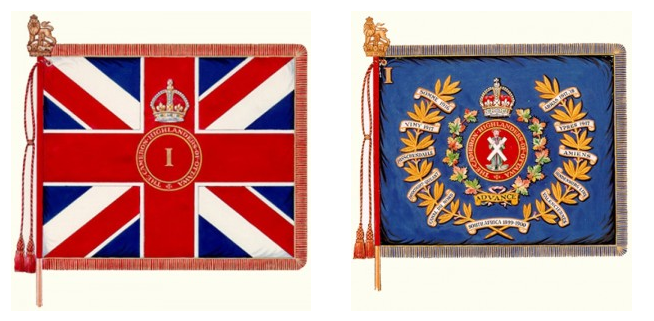 First stand of Colours of the Cameron Highlanders of Ottawa (1936-1967). (Source)
Princess Pats Win Big Award
Supplementary List Battle Honours Also Includes Other Ottawa Regiments
Ottawa Citizen, 11 October 1929
In the supplementary list of battle honours which militia regiments are entitled to emblazon on their colours and on colours of the Canadian Expeditionary Force which such regiments perpetuate, 160 battalions are disposed of, thus reducing the number still to be dealt with to a small one. The Department of National Defence today has caused the information regarding those battle awards to be published in district headquarters orders.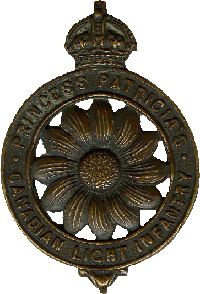 Heading the supplementary list is a the Princess Patricia's Canadian Light Infantry who, in their 1915 selection, carry the envied honour "Frezenburg." The Patricia's alone of the Canadian troops which operated in France are entitled to this particular award.
Three militia regiments, nine Canadian Corps infantry battalions, 136 reinforcing battalions of the C.E.F., four Canadian Corps machine gun battalions, and four machine gun units of the active militia, six pioneer battalions, one battalion of railway construction troops and four forestry units are dealt with in this second list. Additional to these are the 259th and 260th Battalions which receive the award "Siberia."
An analysis of the awards shows that all battalions of the Canadian Corps with the sole exception of the 7th British Columbia Battalion have now received their colour honours. It also discloses that only one infantry battalion has rejected all of the 1918 battles from its colour, including "Amiens," "Drocourt-Queant," and "Canal du Nord." This is the 2nd Battalion perpetuated by the Peterborough Rangers. The official list reveals that in their places those responsible for the selection have chosen the less definite "Hindenburg Line" to represent all the fighting wherein this unit participated in 1918. Every other battalion of the Canadian Corps has selected "Amiens," which, as Ludendorff said, was "the black day of the German army." In view of the fact that the 2nd Battalion fought through Amiens in on August 8 and 9, 1918, to the peak of the Canadian penetration and culminated their efforts by capturing Rouvroy en Santerre, which marked the limit of the Canadian advance on the second day of the battle, the rejection of "Amiens" as a colour honour is unique.
The Canadian Light Horse is the only cavalry regiment that has failed to accept "Amiens." In 1918, however, the C.L.H. were corps troops as distinguished from the regiments of the Canadian Cavalry Brigade.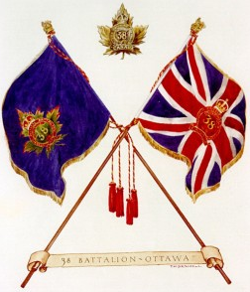 Regimental and King's Colours of the 38th Canadian Infantry Battalion. These Colours are displayed in the museum of the Cameron Highlanders of Ottawa. (Source)
Among the units in Ottawa and district awarded additional battle honours for the Great War are:
Ottawa —
Hull — 230th Canadian Infantry Battalion, C.E.F., perpetuated by Le Regiment de Hull
Brockville — 156th Canadian Infantry Battalion, C.E.F., perpetuated by the Brockville Rifles
Cornwall — 154th Canadian Infantry Battalion, C.E.F., perpetuated by the Stormont, Dundas and Glengarry Highlanders
Perth — 130th and 240th Canadian Infantry Battalions, C.E.F., perpetuated by the Lanark and Renfrew Scottish Regiment

Posted by regimentalrogue at 12:01 AM EST