Rations at the Beginning of the 19th Century
Topic: Army Rations

Rations at the Beginning of the 19th Century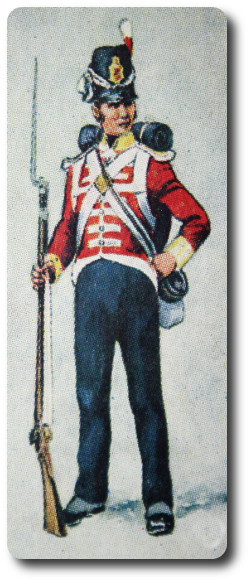 Inside the Regiment; The Officers and Men of the 30th Regiment During the Revolutionary and Napoleonic Wars, Carole Divall, 2011
Not only was the soldier clothed by the army; he could also rely on being fed by the army, except under the most severe campaigning conditions or when the commissariat failed. These two difficulties came together during the final days of the retreat from Burgos when the supplies took the wrong route. No wonder men of the third and fourth divisions resorted to shooting pigs while others scrambled for acorns as their only hope of sustenance. Nor was this an isolated incident. The commissary attached to the third division during the Waterloo campaign also failed in his duty. As a result, on Wellington's order, 'Mr Deputy Assistant Commissary General Spencer [was] removed from the Commissariat for quitting the 3d Division to which he was attached, without leave during the important operations recently carrying on.'
The official daily ration was one and a half pounds of bread, a pound of meat (half a pound if it was pork), a quarter of a pint of pease, an ounce of butter or cheese, and an ounce of rice. Since not all of these were always available, considerable variations in this restricted diet are recorded. In addition, some battalions encouraged officers to supply their men with vegetables. Bread and meat were the most predictable items, but although the quantity remained the same the quality varied greatly. There were many horror stories of adulterated food, particularly bread. As for meat, a pound might be more bone than flesh.
Inspecting generals in the two-battalion period often commented approvingly on the quality of the meat supplied. In November 1813, while the second battalion was stationed in Jersey, it was reported that 'The meat and bread are furnished by contract, of a good quality', while sixth months later, in Flanders, the men's messing is well attended to, & the meat and bread issued is generally good.' In Vaumorel's inspection at Cannanore, we read that 'The men's messing [is] strictly attended to, and good as the supplies on the Malabar Coast will possibly admit of.'
On campaign, the meat was likely to be on the hoof until shortly before it found its way into the men's camp kettles, or alternatively it might be salted. As in so many aspects of military life which related to the comfort of the soldier, the French organised things rather better for their conscript army, so it is no wonder that the chance to eat what the French had left behind in the course of a hurried departure was eagerly accepted. This was the good fortune of the 2/30th along with the 2/94th, when they crossed the river into Sabugal in 1811, and broke into the recently vacated castle.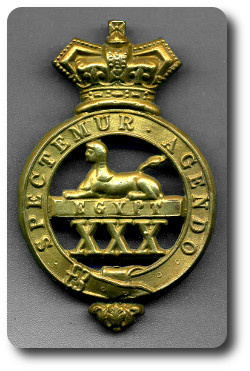 The daily drink allowance was five pints of small beer, which on campaign would be converted into whatever happened to be the local drink. The Portuguese wondered at the British soldiers' capacity for drinking the rough red wine which they themselves were reluctant to touch; while in India the native arrack was the cause of much indiscipline. There is evidence to suggest that some soldiers would willingly have starved themselves in order to have more money for drink, but for the system of messing which put men into groups who cooked and shared the food in rotation. This made it impossible for the individual soldier to forgo his food Furthermore, the officer of the day, as part of his duties, was required to inspect kettles at the hour appointed for cooking, while supervising messing arrangements was one of the general duties of all company officers.

Posted by regimentalrogue at 12:01 AM EST
Updated: Saturday, 10 October 2015 7:08 PM EDT