The White Feather Brigade
Topic: Humour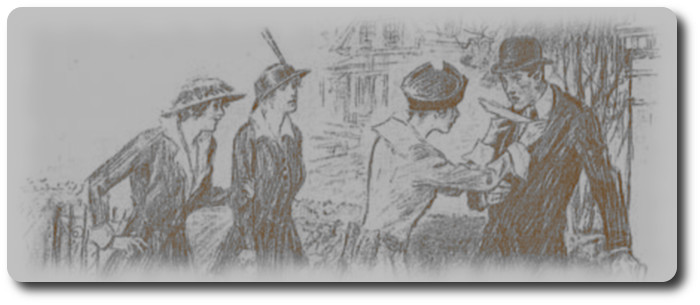 The White Feather Brigade
A Brass Hat in No Man's Land, Brig.-Gen., F.P. Crozier, C.B., C.M.G., D.S.O., 1930
The memorable year of 1914 closes with the hope that we shall soon be 'in it.'
We have the usual Christmas dinners, leave, festivities and rejoicing. I go to London for ten days and become a civilian in mufti.
I find the ladies are very pressing in the metropolis, with white feathers for men unwilling to fight. Going to the Alhambra to book seats I meet one in Coventry Street. She presents her feather and smiles. I do likewise.
'Why are you not in uniform?' she asks. 'Afraid to fight!' And so on. 'A visit to the recruiting officer?' she suggests.
'Certainly, if you wish,' I reply.
Off we toddle together to Trafalgar Square. The recruiting officer smiles at Miss Busybody and looks at me.
'A bit on the short side! However, times are hard!' he says condescendingly.
Many questions are asked me. 'Well, I haven't actually served before, I am serving,' I state.
'What the hell are you doing here then!' asks the great man.
'I don't know, I'm sure. Better ask the lady,' I reply.
Both look blankly at each other and then at me.
'Who are you, what are you?' she asks.
'A Major in The Royal Irish Rifles,' I reply.
I hope, if she is alive to-day, this well-meaning and patriotic lady will work as hard in the cause of Peace as she did in the cause of War. She may, if she completes the patriotic circle, find opportunity of making fewer mistakes!

Posted by regimentalrogue at 12:01 AM EST
Updated: Monday, 23 November 2015 12:08 AM EST