Pay at the Beginning of the 19th Century
Topic: Pay; the Queen's shilling

Pay at the Beginning of the 19th Century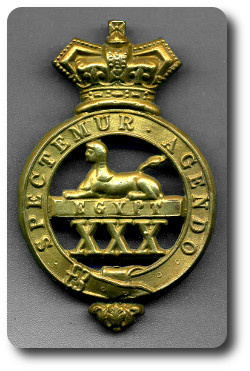 Inside the Regiment; The Officers and Men of the 30th Regiment During the Revolutionary and Napoleonic Wars, Carole Divall, 2011
Overall, the soldier was adequately clothed, at a cost of £1.16.6d in 1811. The regiment provided him not only with his jacket, trousers and shoes, but also with a kersey waistcoat and a cap, the last being replaced every two years, whereas the rest of the uniform was renewed annually. This headgear changed from a tricorne to a shako in 1806, the original stovepipe shako being replaced by the Belgic, with its raised front, by the time of Waterloo. Both were topped with a feather cockade. Since shakos were made of stiffened felt, they rarely retained their shape in wet weather. It was possible, however, to cover them with an oilskin protector which extended over the neck, thus offering some slight protection against rain.
The soldier was stopped 1/6d a week for what were termed his necessaries. These comprised in part the rest of his uniform: three shirts, one pair of gaiters while these were still worn, three pairs of worsted or yarn socks, worsted or yarn mitts, the much-hated black stock, and a foraging cap. Some other necessaries were required to maintain smartness: a clothes brush, three shoe brushes, black ball, hair ribbon and leather bag (while still required), two combs, and straps for carrying a greatcoat. This last was also regarded as a necessary and was renewed every three years. The other necessaries were all related to the upkeep of the musket: turnscrew, brush and worm, emery, and brick oil. They were paid for at public expense. The final necessary, of course, was the knapsack, which carried all this paraphernalia.
Necessaries were easy to lose, exchange for ready cash, or steal, and as a result they figure frequently in regimental courts martial records. For example, in the regimental courts martial recorded in the November 1814 inspection of the first battalion twelve men were recorded as having made away with part of the regimental necessaries, for which they received punishments which could be as much as three months' solitary confinement or as many as 300 lashes, with stoppages.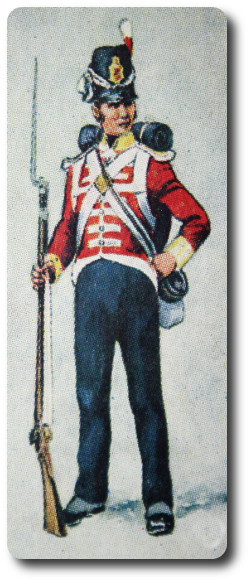 Finally, there was the question of pay, a shilling a day for the first seven years of service, rising to l/1d after seven years, and 1/2d after fourteen years. This needs to be compared with civilian rates. For example, agricultural labourers earned an average of 2/- a day, while skilled textile workers might earn as much as 4/- a day. In addition, the soldier received a penny a day as beer money, and sixpence for subsistence when on the march, twopence of which remained his after fourpence had been paid to the innkeeper who fed him. Since food, clothing and accommodation were all provided, he might well feel satisfied with his lot — were it not for the deductions the army demanded. Stoppages for necessaries, as we have seen, could amount to 1/6d a week maximum, while a further 4/7d maximum might he taken for messing expenses, including the supply of vegetables. If the full amounts were exacted, the soldier would be left with 1/6d a week, hardly a princely sum. And yet some men managed to leave a considerable sum upon their death, anything between five and ten pounds not being unusual.

Posted by regimentalrogue at 12:01 AM EST