Private Irving, KIA
Topic: Remembrance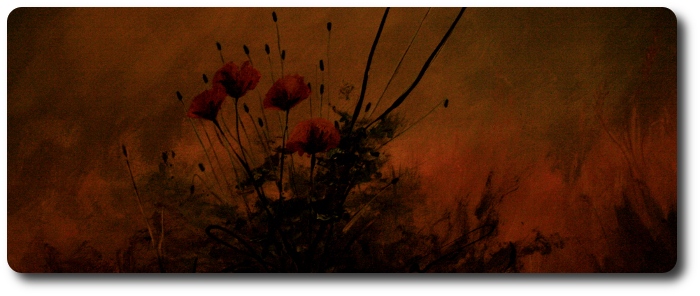 Private Irving, KIA
This story of one "Private Irving" comes from "The Official Story of the Canadian Expeditionary Force," by Sir Max Aitken, M.P., 1916.
Now we come to the story of Private Irving, one of General Turner's subordinate staff, who went out to do as brave a deed as a man might endeavour, but never returned. Irving had been up for forty-eight hours helping to feed the wounded as they were brought into Brigade Headquarters, which had been turned into a temporary dressing station, when he heard that a huge poplar tree had fallen across the road and was holding up the ambulance wagons.
Though utterly weary, he at once offered to go out and cut the tree in pieces and drag it from the path at the tail of an ambulance wagon.
Irving set forth with the ambulance, but, on nearing the place of which he was in search, left it, and went forward on foot along the road, which was being swept by heavy artillery fire and a cross rifle fire. And then, even as, axe in hand, he tramped up this road, with shells bursting all around him and bullets whistling past him, he disappeared as completely as though the night had swallowed him up! General Turner, who appreciated the gallant work Irving had set out to do, himself had all the lists of the field force checked over to see if he had been brought in wounded. But Irving was never traced. He is missing to this day—a strange and brave little mystery of this great war.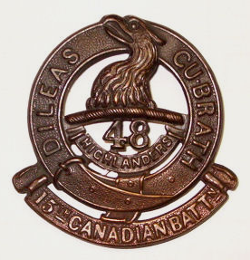 Identifying Irving from this brief description seemed like a daunting task, but checks of Ted Wigney's "CEF Roll of Honour," and the Canadian Virtual War Memorial quickly limited the possibilities to one soldier.
Private William Adam Irving died on the 24th of April, 1915. He was a soldier of the 15th Canadian Infantry Battalion.
Born in Little Current, Ontario, Irving's family was living in Sudbury when he attested for overseas service at Valcartier on 18 September, 1914. William Irving was a 21-year-old Deputy Sheriff, with 4 years prior experience in the "97th Rifles, Volunteers," now The Algonquin Regiment.
Confirmation that William Irving was the man in the excerpt above came from his Circumstances of Death record, which can be viewed among the resources on line at the Library and Archives Canada. This document reads:
"Previously reported Missing, now for official purposes presumed to have Died"
"On the night of April 23/24th, 1915, word was received at Brigade Headquarters that a tree had fallen across the road near Fortuin, thereby preventing the ambulances going up for the wounded. Pte. Irving who was nearby volunteered to go and cut the tree. He took an axe, climbed into one of the ambulances, and started for Fortuin. Shortly afterwards the ambulances were hit by shell fire, and the drivers taken prisoners, but no information has since been received concerning Private Irving."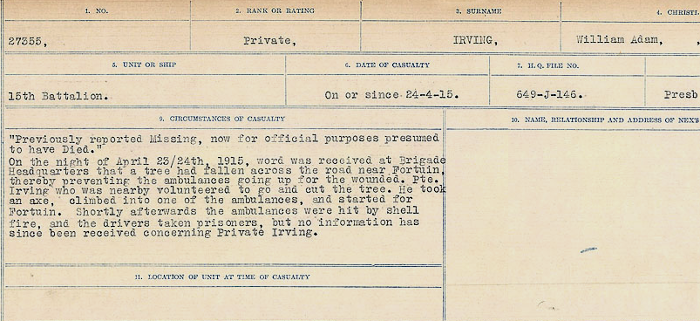 Private William Adam Irving is commemorated on the Menin Gate, Belgium.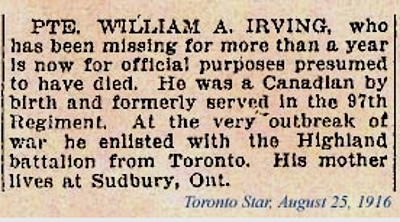 Posted by regimentalrogue at 12:01 AM EST
Updated: Sunday, 18 October 2015 3:00 PM EDT