RCR Buttons - The Canadian Infantry School Corps
Topic: Militaria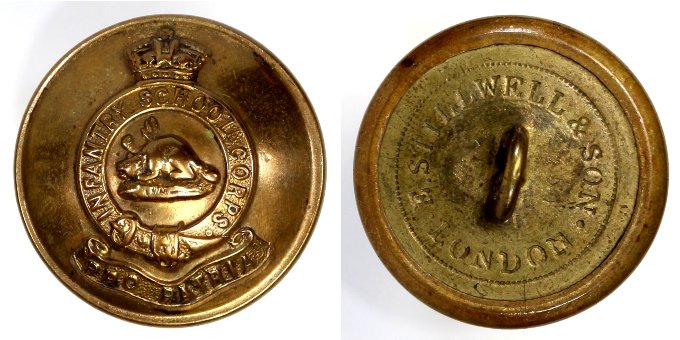 Few badges produced for The Royal Canadian Regiment were marked by the manufacturing companies. In contrast, however, most of the buttons produced for the Regiment over the past 130 years are marked by their makers. This includes the first pattern of buttons made for the Canadian Infantry School Corps, which became The Royal Canadian Regiment.
E. Stillwell & Sons, London
Unlike some other early manufacturers of militaria, Stillwell & Sons is no longer active. But we can rely on the intelligence gathering efforts of both button collectors and genealogists to provide some background on this early contractor to the Regiment.
Diana's Buttons - British Button Backmarks
E. Stillwell & Sons, London, Little Britain & Barbican. (Circa 1900)
Stilwell Genealogy – Interesting Facts
Stillwell & Son, also known as Edward Stillwell & Son.
Edward Stillwell started business about 1825, and it became Stillwell & Son in about 1852. They ceased trading about 1957. An 1881 directory listed them as: "Edward Stillwell & Son, gold & silver lacemen & embroiderers, army & navy outfitters, cork helmet manufacturers & sword cutlers, Manchester & woollen warehousemen, & every description of Masonic clothing, jewels, furniture & fittings, tinsel, lace & trimmings, prize medal 1862 for good execution,25 & 26 Barbican, London EC; 6 Little Britain, London EC; & 29 Savile Row, Regent Street, London W."
Edward was born in Southwark and his widowed mother had enough money to apprentice him to a Daniel Atherley in 1802, a member of the Gold and Silver Wyre Drawers' Company. He started his own business in St Giles (near the present Barbican in London) and was a successful businessman as he died in 1864 in Lewisham, London, a wealthy man. Items produced by this company include uniform buttons, regalia (particularly Masonic) and ceremonial weapons such as cavalry swords. Some of these - particularly the buttons - often come up for sale on eBay.

Posted by regimentalrogue at 12:01 AM EST
Updated: Monday, 18 March 2013 4:46 PM EDT