The Mons Medallion
Topic: The RCR
Many Canadian Army regiments carry the Battle Honour "PURSUIT TO MONS," either from the presence of their own cap badge on that field of battle, or by the presence of one or more Canadian Expeditionary Force (CEF) units they now perpetuate (or both in some cases).
During those last days of the First World War, the Canadian Corps advanced toward Mons as the clock ran down to the Armistice. In the final act, the 3rd Division led, and of that formations units, it was The Royal Canadian Regiment that marched first into the city of Mons, the signature of Lieutenant William King in the Golden Book of Mons ensuring a definitive record of that accomplishment.
The War Diary of The R.C.R. for November 11, 1918 reads:
"MONS At about 09.00 hours a signal message as attached was received stating that all hostilities would cease at 11.00 hours etc. The news was sent to Companies and soon spread among the civil population as well. Thus for us the war ended in almost exactly the same ground that the British Army had made their first stand in 1914. Our men were in MONS. One platoon of "A" Company under Lieut. W.M. KING had been the first to reach the square in the morning and the platoon commander had inscribed his name in the "Golden Book of MONS". In the afternoon the Corps Commander made his official entry in to MONS, part of "A" Company contributed to the Guard of Honour. Battalion Headquarters moved to MONS in the evening."
After the Armistice, the City of Mons minted a small aluminum medallion, to be given to all soldiers of the 3rd Canadian Infantry Division, to mark their role in liberating their city. These medallions appear occasionally, many probably long discarded as soldiers' medals passed to heirs and the significance of the smaller medallions was perhaps overlooked. Small and innocuous perhaps, only 22 millimetres in diameter and 1 mm thick, the Mons Medallion represents the gratitude of a liberated City for the final actions of the Canadian Corps at the end of the First World War.
On the face of the medallion is the coat of arms of the City of Mons, with "VILLE de MONS ." On the reverse reads the following message:
LA VILLE DE MONS
AUX SOLDATS DE LA
3eme DIVISION CANADIENNE
11 9bre 1918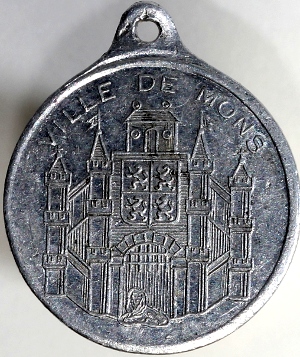 The Royal Canadian Regiment continues to remember the "Pursuit to Mons." In the 2nd Battalions, it was also origin of the award given annually to the unit's best Platoon Commander – The Mons Box.

Posted by regimentalrogue at 4:06 PM EST
Updated: Monday, 18 February 2013 12:26 AM EST