Battle Honours; Geographical and Chronological Limits
Topic: Battle Honours
Anyone who has spent time studying Canadian military history, or any of Canada's Army regiments has heard of Battle Honours. Defining and understanding Battle Honours, however, often takes a deeper examination than reading the many popular histories that are available, or even individual regimental histories. The general descriptions of Battle Honours as battle actions for which a regiment has been formally recognized and rewarded by receipt of the honour more often than not falls short of full understanding. Often named for a region (e.g., NORTHWEST EUROPE), an area of that region (e.g., THE RHINELAND), a specific location (e.g., ORTONA), or a tactical operation (e.g., BATTLE OF VIMY RIDGE), we may have a general idea of the context of the battle based on readings and popular media but that popular conception doesn't always define the parameters for the awarded honours.
The greatest confusion may come about when a Battle Honour is named for a location, and this is particularly so for the First World War. For example, many units fought in and around the town of Cambrai in Northern France near the end of the First World War. From this, you might be able to assume that any such actions might contribute to eligibility for the Battle Honour "CAMBRAI, 1918." But this is not the case.
The Battle Honour "CAMBRAI, 1918," like many other such honours, has very specific restrictions on the dates during which a unit had to be engaged with the enemy, and specific geographical bounds within which that action had to take place for eligibility. These chronological and geographical bounds for the Battle Honour "CAMBRAI, 1918," encompass two days and about 580 square kilometres in a region approximately 15 by 40 Kms, and are as follows: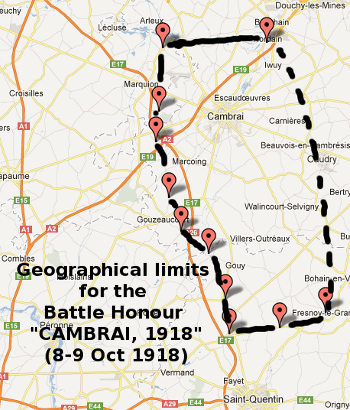 CAMBRAI, 1918
8-9 Oct 1918
Road Fresnoy - Sequehart - Bellinglise - Bellicourt -Vendhuille - Villers-Guislain - Villers-Plouich - Graincourt - Bourlon - Oisy-le-Verger: thence the river Sensee
Using Google maps, we are able to plot these locations on a modern map images and capture it for a simple display of the geographical boundary.
Only if a unit was engaged with the enemy within this boundary, during the dates 8-9 October, 1918, and meeting the other terms of reference for Battle Honours, could it request the for the Battle Honour "CAMBRAI, 1918," after the War. To place this area in a different perspective, the operational area for the 2nd Canadian Infantry Division at Cambrai on 8/9 Oct 1918 spanned an area of only 10 square kilometers within this boundary. Within those 10 square kilometers, all twelve infantry battalions and the Machine Gun Battalion of the 2nd Canadian Infantry Division earned the Battle Honour "CAMBRAI, 1918."
See the geographical and chronological limits for other Battle Honours of the First World War at The Regimental Rogue: Canadian Army Battle Honours

Posted by regimentalrogue at 12:01 AM EST
Updated: Wednesday, 20 February 2013 9:18 PM EST