Halifax, Nova Scotia
Topic: Halifax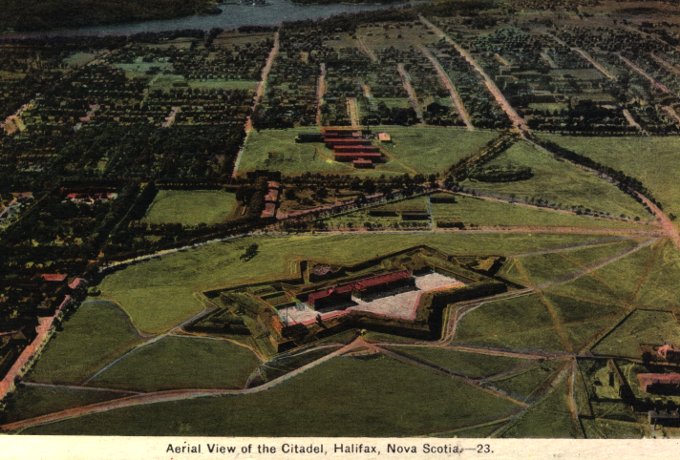 This aerial view of Halifax is from a postcard which was probably taken between the First and Second World Wars. Halifax was the Home Station of The Royal Canadian Regiment (The RCR) from 1905, when the Regiment expanded with six new companies and a battalion headquarters to take over the garrison duties in the port city (after the withdrawal of the last British garrison units). It was from Halifax that The RCR went to Bermuda for a garrison duty for the first year of the First World War, and it was to Halifax the Regiment returned briefly before proceeding to European battlefields. The Regiment returned once again to Halifax after the Great War, but did not return to permanent garrison duties, by 1920, the Regiment was relocated to Company Stations in Fredericton, Toronto, London and Montreal.
Those familiar with the city will recognize the Citadel in the foreground, The last infantry garrison troops to occupy the fortress were of The RCR. In the centre middle ground is Camp Hill Hospital, with the Halifax Commons extending to the right of the image .In the distance is the Northwest Arm, an extension of the harbour which defines the Halifax Peninsula. The Arm appears closer than it is in reality because the angle of the photo hides the falling ground extending toward the water of the Northwest Arm. At the very top centre of the image lies the cove where Melville Island can be found. Melville Island was, for many years the military proison site at Halifax.
The image below shows much of the same area, as depicted on the 1918 topographical map published by the Geographical Section, General Staff, of the Department of National Defence. (Each grid square is 1000 yards (914 metres).)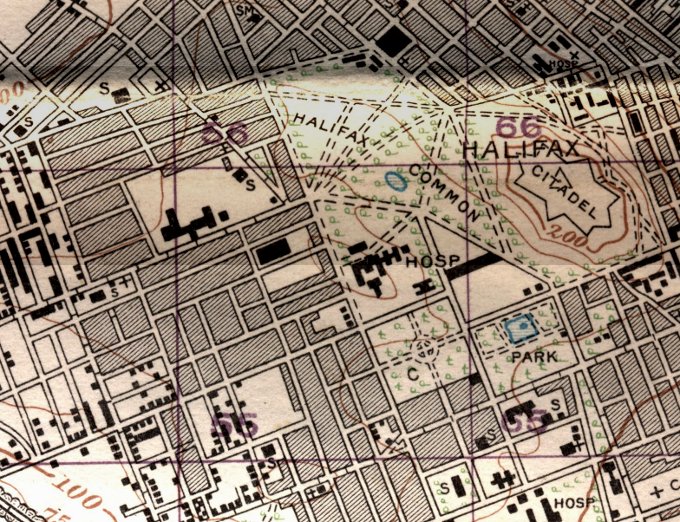 Google maps shows that, although much of the city has been rebuilt, the area of the Citadel and the area behind the hill remain recogizable.
Posted by regimentalrogue at 12:42 AM EST
Updated: Saturday, 16 February 2013 12:47 AM EST