The Vimy Pilgrimage and the XIth Olympiad
Topic: Vimy Pilgrimage
This advertisement, for the 1936 Olympic Games to be held at Berlin, Germany, can be found in the Handbook provided to veterans and family members attending the Vimy Pilgrimage. Twenty years after those veterans saw Germany in defeat at the end of the Great War, the Canadian Legion saw German advertising helping to subsidize their printing efforts in support of the Pilgrmage. Little did they realize that within the following decade, another generation of Canadian soldiers would be fighting their way back into Germany with a highly skeptical view of the "traditional hospitality of the land of Wanderlust and Gemütlichkeit."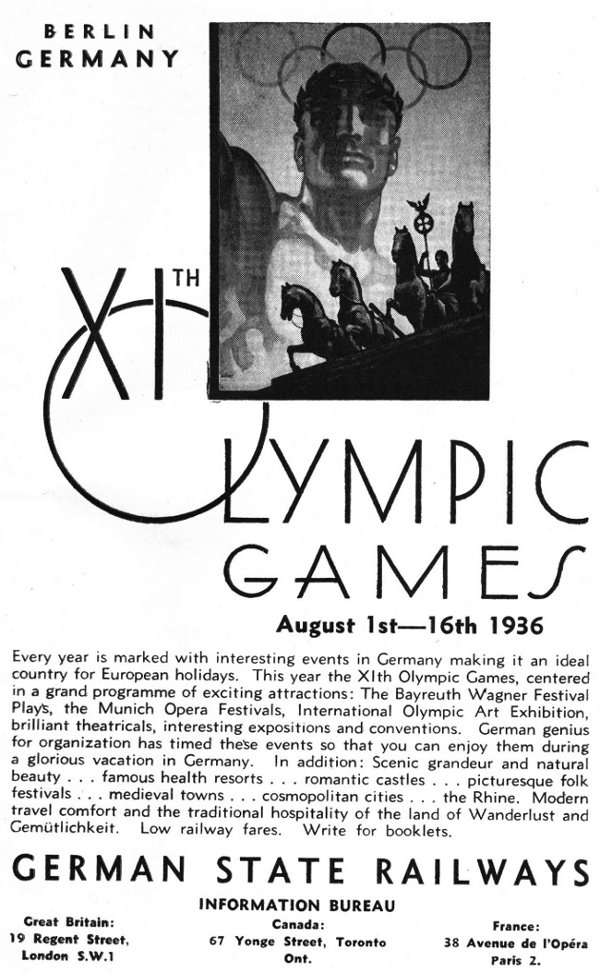 Wanderlust is a strong desire for or impulse to wander or travel and explore the world.
Gemütlichkeit means a situation that induces a cheerful mood, peace of mind, with connotation of belonging and social acceptance, coziness and unhurry.
Posted by regimentalrogue at 12:01 AM EST