Composition Ration (14-man pack) (1942)
Topic: Army Rations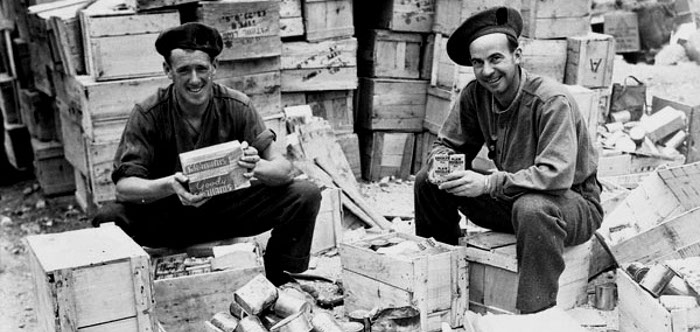 Private W. Sutherland (left) of The Westminster Regiment (Motor) and Private V.A. Keddy of The Cape Breton Highlanders repacking compo rations at a supply depot, Cassino, Italy, 18 April 1944. Photographer: Smith, Strathy. Mikan Number: 3210988. From the Library and Archives Canada virtual exhibition Faces of War.
Operational Feeding
The Use of Field Rations
1942
Composition Ration (14-man pack) (1942)
The composite ration pack, which is composed entirely of tinned commodities packed in wooden cases containing 14 rations (i.e., food for 14 men for one day) and which is used until such time as fresh rations become available. This ration supersedes the older type of compo pack which contained 12 rations, and which will no longer be issued except for training.
This, like the mess tine ration, is composed entirely of tinned commodities and has nine different varieties of daily ration scale. It is intended to be used for the first four to six weeks until it is possible to issue fresh rations, which involves baking bread and handling fresh meat through cold storage facilities. The food is contained in a wooden box of 2 cubic feet. It is sufficient food, in bulk, for 14 men for one day, or for say seven men for two days, but it does not lend itself to being sub-divided into 14 single rations. It is intended that cooking facilities should be available when the composite ration comes into use, but for isolated detachments improvised cooking will be necessary. No Tommy cookers are included in the pack, but a limited scale is available for issue in addition to the pack. Units when drawing or demanding compo rations from R.A.S.C. sources should make certain that they get varieties of packs, otherwise they will not have the advantage of the different types to vary their daily diet. There are seven cigarettes for each man a day.
Appendix B – Composite ration Pack Type "A" †
(14 men for one day.)
Contents and suggested use.
Breakfast
Tea #
3 tins (2 tall, 1 flat—Tea, Sugar and Milk Mixture).
Sausage (1 hour) ‡
2 tins.
Biscuit #
1 tin.
Margarins #
1 tin.
(k Items marked thus are also to provide for other meals.)
Dinner
| | |
| --- | --- |
| Steak and kidney pudding (1/2 hour) ‡ | 11 tins. |
| Vegetables (3/4 hour) ‡ | 4 tins (2 large, 2 small). |
| Tinned fruits | 2 tins. |
Tea
| | |
| --- | --- |
| Tea | (# see above.) |
| Biscuit | (# see above.) |
| Margarine | (# see above.) |
| Jam | 1 tin. |
Supper
| | |
| --- | --- |
| Baked beans (3/4 hour) ‡ | 3 tins. |
| Biscuit | (k see above.) |
Extras
Cigarettes
2 tins (1 round, 1 flat—7 cigarettes for each man)
Sweets
1 tin.
Salt
—(packed with sweets above.)
Matches
—(packed with sweets above.)
Chocolate
—(1 slab for each man—packed with biscuit.)
Latrine paper.
Directions
Tea, sugar and milk powder:—Use a dry spoon and sprinkle powder on heated water and bring to a boil, stirring well. Three heaped teaspoonfuls to 1 pint of water.
‡ May be eaten hot or cold. To heat, place unopened tins in boiling water for minumum period as indicated. Sausage may be fried (using margarine) is preferred.
† This is only one of nine types. The others are B, C, D, E, F, G and X and Y, containing items such as:—
Type
Breakfast
Dinner
Tea/Supper
B
Bacon
Steak and kidney
Date pudding
Jam
Soup
C
Sausage
Irish Stew
Sultana pudding
Cheese
Soup
D
Bacon
Stewed steak
Rice pudding
Sardines
Soup
E
Sausage
Haricot oxtail
Marmalade pudding
Sardines
Cheese
F
Meat
Preserved meat
Mixe fruit pudding
Jam
Salmon
G
Sausage
M. and V. Ration
Treacle pudding
Jam
Soup
X
Luncheon Meat
Preserved meat
Tinned fruit
Jam
Salmon
Soup
Y
Sausage
M. and V. Ration
Tinned fruit
Sardines
Soup

Posted by regimentalrogue at 12:01 AM EDT