The Souvenir Habit
Topic: Drill and Training
The Canadian Army Training Memorandum No. 26, distributed May 1943, warned officers of the Canadian Army of a disturbing trend where the collection of souvenirs by soldiers was undermining Allied efforts at intelligence collection and research into German war technologies. The following description was provided for officers to train their troops in the expected handling of items they might be considering keeping as souvenirs.
The Souvenir Habit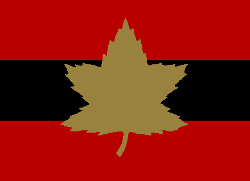 First Canadian Army
- "The Army's strength was 177,000 in all ranks at the end of 1942. One year later it had grown to 242,000. At the time of the invasion of Normandy on 31 May, 1944, it was 251,000, of which 75,000 were in Italy."
1. A desire to keep captured documents and equipment as souvenirs sometimes results in the loss of much information which would be helpful to the armed forces as a whole. This point is well illustrated by the case of a battalion commander who, in forwarding his unit war diaries to second echelon, made a special request that certain attached captured documents should not be removed from the file in which he was sending them. It was discovered that the documents had been captured sometime before, and unfortunately had never been passed on to the proper authority. Soldiers sending parcels home have included the following articles as souvenirs:
(a) Binoculars and compasses, of which our own fighting troops are short.
(b) Many rounds of ammunition (for a German anti-tank gun) that our own tank designer needed urgently for test purposes.
(c) An electrical gyroscopic compass, also urgently wanted for research.
(d) Enemy tank logbooks giving us valuable information regarding enemy tank production.
(e) Many useful photographs of enemy equipment about which our information was not yet complete.
(f) Valuable items of signal equipment.
(g) Specimens of Axis food which would have provided useful clues for our blockade authorities.
(h) Many types of fuzes, or igniters, and detonators, some of which were new to us and all of which were helpful in some way.
(i) Italian shoulder straps and a German football jersey with a badge, which gave us valuable identifications, including the fact that a new unit had been formed.

The same page included the advice for officers that:
"We must develop aggressiveness and aggressiveness can be developed only by aggressive instruction."

Posted by regimentalrogue at 12:01 AM EDT