The Kiska Regiments, then and now
Topic: Perpetuation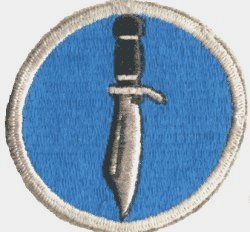 In August 1943, the 13th Canadian Infantry Brigade, of the 6th Canadian Division, participated in the combined US-Canadian force that assaulted the Island of Kiska in the Aleutians.
Taking place three months after the US forces assaulted the island of Attu, where casualties totalled 25% of the attacking force, Kiska was not expected to be any easier to defeat. The attack on Kiska, as it happened, met empty shores and vacant barracks and gun emplacements. The Japanese had managed to evacuate the island only two weeks before the assault, slipping through the picketing warships amidst in heavy for and rough seas.
But for the Japanese forces' luck in escaping the closing trap, Canadians might know of Kiska with the same sense of tragedy that we remember of the battles at Hong Kong and Dieppe.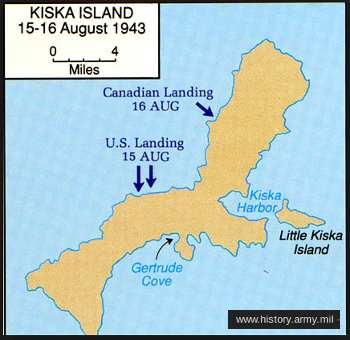 The Kiska Regiments, then and now
The Canadian Army at Kiska; August 1943
The Kiska Regiments Today
9th Light Anti-Aircraft Regiment
Nil
19th Field Regiment
Nil
20th Field Regiment (shared with the 7th Canadian Infantry Division)
20th Field Artillery Regiment, RCA
21st Field Regiment
21st Field Artillery Regiment, RCA
24th Field Regiment (shared with the 7th Canadian Infantry Division)
24th Field Artillery Regiment, RCA
25th Field Regiment
56th Field Artillery Regiment, RCA
13th Canadian Infantry Brigade
The Canadian Fusiliers (City of London Regiment)
The Royal Canadian Regiment
The Winnipeg Grenadiers
The Winnipeg Grenadiers (Reduced to nil strength and transferred to the Supplementary Order of Battle on 28 February 1965.)
The Rocky Mountain Rangers
The Rocky Mountain Rangers
Le Régiment de Hull
Le Régiment de Hull
24th Field Regiment, RCA
24th Field Artillery Regiment, RCA
46th Light AA Battery, RCA
Nil
24th Field Company, RCE
Nil
1 Company, St. John Fusiliers (M.G.)
The Royal New Brunswick Regiment



Posted by regimentalrogue at 12:01 AM EDT
Updated: Tuesday, 23 July 2013 10:55 PM EDT