CGS Message to Canadian Army
Topic: Canadian Army


Private Heath Matthews of 1st Battalion, The Royal Canadian Regiment awaiting medical attention outside a regimental aid post, June 1952.
A Message to the Canadian Army from the Chief of the General Staff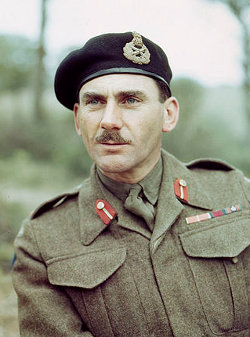 Major-General Guy G. Simonds, Commander 1st Canadian Division in Italy, 1943.
Canadian Army Journal, Vol 6, No 5, December 1952
There are few national activities of our country in which Canadians ought to take greater satisfaction than in the record and achievements of the Canadian Army. To serve it has always been my greatest pride and I believe that every soldier who has the privilege to belong to it should share that feeling. I believe the Canadian Army today is fulfilling its duty to Canada in a manner fully in keeping with its high record of service in the past. If I did not hold that conviction, I would not continue as its head. The high tributes paid to Canadian troops serving in Korea and Europe have not come from me or from any other Canadian officer or civilian. They have come unsolicited from Supreme Commanders and a number of highly responsible observers, whose impartiality is beyond a doubt. Canadian soldiers serving at home are every bit as good as the Canadian soldiers serving abroad. Many have already served in Canada, Korea and Europe. The appreciation of their service is probably less openly expressed because they are not in the position of being compared with other armies by impartial critics. Canadians are notoriously critical of their own institutions. In recent weeks and months the Army has been the target of unremitting attacks from many sources. We have been criticized for the indiscipline of Canadian soldiers. We have been criticized for too much discipline. We have been criticized for extravagance and criticized for not providing a whole host of things which cost a very great deal of money. We have been criticized for lack of morale and accused of complacency and arrogance when we have shown or proclaimed a pride in the Canadian Army. We must expect and welcome constructive criticism. No one of us would claim that the Canadian Army is perfect and the expansion of the last two years has accentuated faults and weaknesses. These faults and weaknesses call for our full attention and the application of corrective action and improvement. Dishonesty, lack of integrity or indifference to sound administration are intolerable and will continue to be ruthlessly removed from the Canadian Army as diseased flesh from its body. None of this should give cause for any discouragement or depression. The only justification for the existence of the Canadian Army is to defend democracy of which free public criticism is an essential element. Some of this criticism has been, and will continue to be, unfairly biased and irresponsible but that will be as clear to the citizens and taxpayers outside the Army as to those serve in it. The Canadian Army today is certainly not perfect and in several respects falls far short of the standards which I hope and believe we can attain. I have made our policies and objectives abundantly clear to General Officers of Commands and to Commanders abroad. I have confidence that these will be conveyed to all the Army and pressed with loyalty and vigour. I charge every soldier to apply himself in all those matters where we clearly need improvement but not to be discouraged or depressed by criticisms which are neither founded on truth nor justified in the light of our positive achievements.
G.G. Simonds
Lieutenant-General
Chief of the General Staff

Posted by regimentalrogue at 12:01 AM EDT