The National War Memorial
Topic: CEF

Canada's Great Response;

the National War Memorial
Silent Witnesses, Herbert Fairlie Wood and John Swettenham, 1974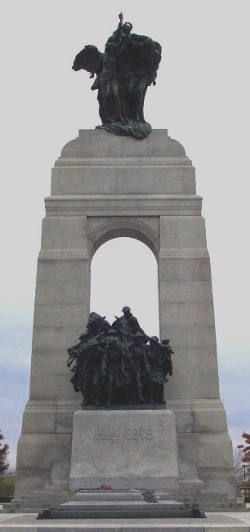 Down the street from Parliament Hill, at the centre of Confederation Square, stands the National War Memorial. It is the most impressive monument erected in Canada and may best be viewed from Elgin Street to give as its background the Parliament Buildings and the distant Gatineau Hills.
In 1925 a competition for the design of a national memorial resulted in the selection of a model submitted by an Englishman, Vernon March. March's theme was "the great response of Canada" and uniformed figures representing all services, passing through a granite arch, eloquently portray the response of the Canadian people. These bronze figures, each about eight feet high, are purposeful; they pass through the archway and symbolize the going of the people to the triumph of their achievements overseas in a spirit of self-sacrifice and with no suggestion of glorifying war.
The figures were completed in 1932 but Confederation Square was being redesigned at the time; in 1933 the government decided to display the figures in London's Hyde Park and it was not until 1937 that they were shipped to Ottawa. More than five hundred tons of granite were then hauled to the site and construction began.
The memorial rests on a massive block of reinforced concrete which in turn is based on steel columns, sunk to bedrock. Little can affect it. Each year, since King George VI unveiled the memorial in the spring of 1939, on the morning of Remembrance Day (11th November) the traffic of Confederation Square is silenced and a solemn ceremony is conducted at the foot of this cenotaph. Wreaths are laid by the Governor General, the Prime Minister, the President of the Royal Canadian Legion, the Chief of the Defence Staff and a mother who has lost sons.


Posted by regimentalrogue at 12:01 AM EDT