More and Better Food for Army Overseas
Topic: Army Rations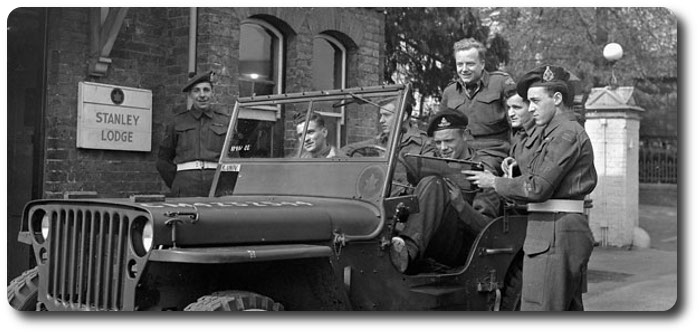 Private Maurice Richard (right), Canadian Provost Corps, talking with students of the Khaki University of Canada, who ride in a jeep driven by Lance-Bombardier R.S. Hughes, Leavesden, England, 15 April 1946. Photographer: Sgt. Karen M. Hermiston. Location: Leavesden, England. Date: April 15, 1946. MIKAN Number: 3518851. (Faces of the Second World War, Library and Archives Canada)
More and Better Food for Army Overseas
Ottawa Citizen, 24 November 1946
After six long years of unimaginative army rations, Canadian troops overseas are going to get more and better food.
Major-General Hugh Young, quartermaster-general of the Canadian Army, said today that shipments of special food have already been arranged and very soon troops in Europe will have added to their menus food which they have long dreamed about and longed for.
Fruit Juices
Included in the new rations will be fruit juices, orange, tomato, and apple. There will be a completely new assortment of vegetables, never present in wartime messes, including tinned corn, corn on the cob, peas, beans, and also tinned fruit, peaches, pears, and apples.
General Young said that all through the active fighting the Canadian Army followed along on the British ration system, but now for reasons of morale it was deemed essential that Canadian troops get food with more of a Canadian character to it.
With all the new trimmings that will make meal time overseas more Canadian than it ever has been during the war, the army will still get its never-ending supply of bully beef, however. Only change so far made in the meat supply for the Canadian troops is that a large shipment of first class Canadian tinned salmon has been obtained. Canadian and British troops alike do receive a fresh meat ration overseas.

Posted by regimentalrogue at 12:01 AM EST