Military Surgery Mean Treating of Infected Wounds
Topic: Military Medical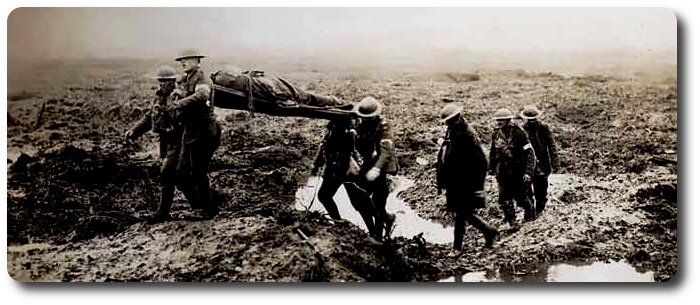 Military Surgery Mean Treating of Infected Wounds
American Doctor Home from Berlin Tells of Hospital with 1,000 Sufferers
Ludington Daily News, Ludington, Michigan, 24 August 1916
Military Surgery No. 2 …
Berlin, Germany, Aug. 24.—(via Amsterdam.)—Dr. Jacob R. Buchbinder of Chicago has just passed through Berlin on his way to Norway, whence he will return to the United States early in September after six months of surgical practice at Naumburg, in the military hospital taken over by a number of American physicians. Dr. Buchbinder says he is glad he is going home, though his experience has been highly valuable to him.
Verdun Patients Seriously Wounded
"Military surgery," he said to me before leaving Berlin, "is different from civil surgery. It is like doing railroad or stockyard work on a large scale. Most of the wounded when the reached us were infected, which makes the practice totally different. We had 1,000 beds under our charge and all were filled when I left, many cases from the Somme and Verdun. The last transports were from the east front. The Verdun patients were nearly all suffering from shell wounds of grave character, while those from the Somme were wounded almost entirely by bullets from machine guns. Many had been wounded more than once.
"These were the first bullet wounds we had seen in months, for during ordinary trench fighting most of the wounded are injured by shrapnel, shells, bombs or grenades. The soldiers were all confident that the west front would hold out, but said the fighting had ceased being war and had become butchery. No, I did not see any bayonet wounds. As a matter of fact I have never seen one and I was never able to hear of one, though I inquired often. Most of the soldiers injured in hand to hand fighting are wounded by hand grenades. I did not see any dumdum bullets.
"We were kindly treated even during the days of the American crisis. Everywhere there was a desire to cooperate with us. We were always supported by the German surgical corps and the war ministry. We were promised serious cases and the promise was kept to the letter. I came to Germany fearing that I would find a general prejudice against Americans, which would make it difficult to live here. I had no trouble personally of any sort. Two of our party were spoken to on trains for talking English, but obviously it was by some one who had been embittered against the English because of special losses."
Dr Buchbinder said the German sanitary service filled him with admiration and he believed that it sis all that could be done under the exceptional difficulties. The care for details was really astonishing.

Posted by regimentalrogue at 12:01 AM EST
Updated: Sunday, 31 January 2016 3:42 PM EST