Canadians Cited for Bravery
Topic: Canadian Army
When we talk about courage and soldiers, all too often our minds and conversations focus on battlefield actions, combat arms soldiers, and significant awards such as the Victoria Cross. Once that habit becomes entrenched, we begin, collectively, to forget about the many other awards of bravery, both on and off the battlefield that have been awarded to soldiers. The article which follows is about three of those brave soldiers who also deserve to be remembered for their actions in time of crisis. - TRR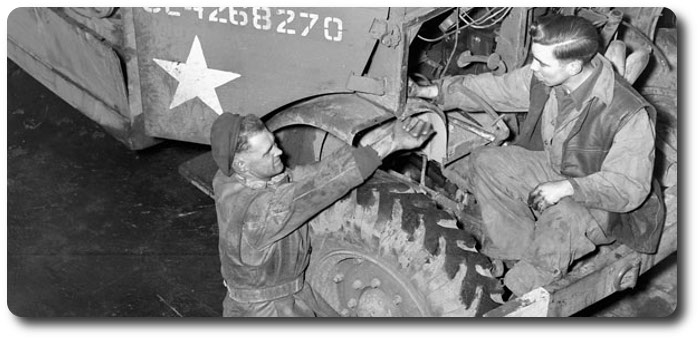 Canadians Cited for Bravery
Ottawa Citizen, 26 June 1942
London, June 25—(C.P. Cable)—Three Canadian soldiers were cited tonight in Canadian army routine orders for distinguished conduct during a serious fire in the ordnance workshop of a Canadian infantry division.
The soldiers, Privates Thomas Francis Mitchell, of London, Ont., and John Ernest Kilcourse, of Tillsonburg, Ont., and Staff Sgt. John Wallace James of Verdun, Que., saved valuable machinery, including an army lorry valued at $17,000, from destruction by fire. The blaze occurred Feb. 21.
The citation said James entered the burning building and removed valuable equipment until almost overcome by fumes when he had to be lifted through a window. Mitchell and Kilcourse entered the building and drove a truck through a wall after local firemen had abandoned attempts to recover it.

The Award Citation
The text of the citation for James, Mitchell, and Kilcourse is shown below: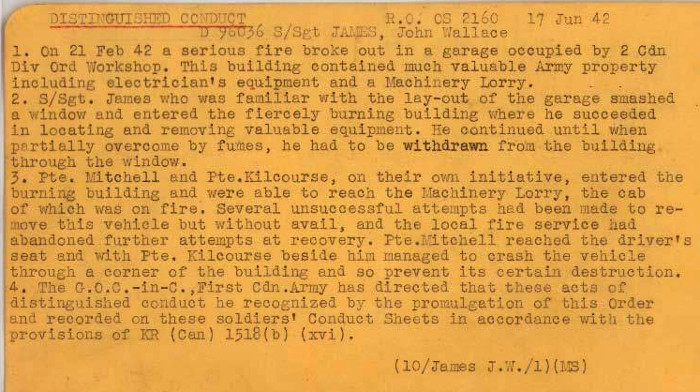 A Subsequent Award
Private Thomas Francis Mitchell was subsequently awarded the British Empire Medal for his actions on the night of 21 February 21942.

Posted by regimentalrogue at 12:01 AM EST