"Circus Day"
Topic: Discipline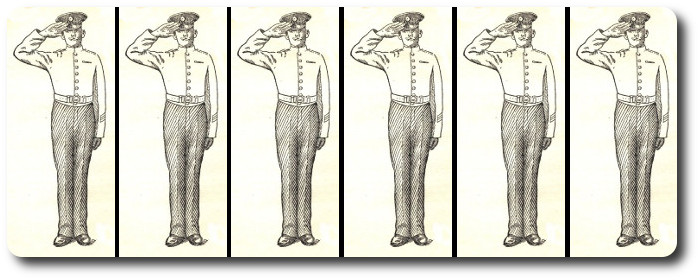 "Circus Day"
Military News, The Daily Mail and Empire, Toronto, Ontario, 25 September 1897
(From the London Daily Mail)
A good many strange things have been done in the name of discipline; but for sheer eccentricity a usage that has just been introduced at Foston Barracks, the headquarters of the Royal Marine Light Infantry, Portsmouth Division, would be very hard to beat.
A week or so back some privates of the corps saluted an officer whom they met in the street in what he deemed to be a slovenly fashion. He reported the matter, with the result that a few days later a number of non-commissioned officers were stationed on the road outside the barracks, and each of these the men had to salute as they passed. This, however, did not satisfy the adjutant, who has substituted for it what the men have not inaptly dubbed "a circus day." This comes every Friday, the day on which the corps is paid. The men go to the pay-office in companies, and it is after they have got their money that the circus begins. After leaving the pay-office each man of a company—the old hands are trotted around as well as the recruits—has to walk around the barrack square, which is lined with sergeants, each of whom the men have to salute.
Every man has to carry an article of clothing on his arm, and each time that he salutes this said article has to be shifted from one arm to the other. In the middle of the barracks square stands the adjutant—or "the ringmaster," as the men describe him—who narrowly watches each man. Should anyone fail to salute in a manner satisfactory to the adjutant, the delinquent has to trot round a second time. And should he not acquit himself to the adjutant's liking on the second round he is called into the centre of the square and given a special lesson by the "ringmaster" himself in the whole art and mystery of saluting.
"Circus day" has now been established for the past three weeks, and at first the novelty of the sight—it is an amusing one enough except to the poor "jollies"—attracted large numbers of spectators. Last Friday, however, the colonel-commandant gave orders that the public should be shut out, and the "circus" went on in strict privacy within the barrack square. The introduction of this extraordinary and unprecedented saluting parade into the ordinary routine as created much dissatisfaction in all ranks.

Posted by regimentalrogue at 12:01 AM EDT