El Alamein 1942
Topic: The Field of Battle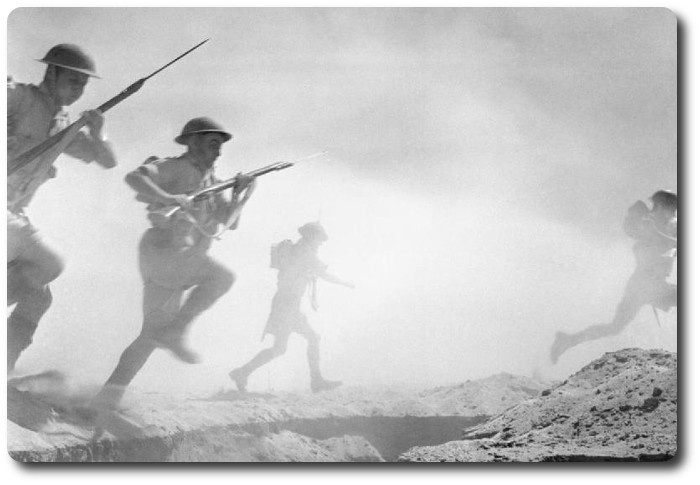 El Alamein
Military Customs, Major T.J. Edwards, M.B.E., F.R.Hist.S., 1947
And so all through the centuries the British soldier has sung his victorious way through numerous battlefields all over the world, quite undaunted by adverse circumstances.
At the Battle of El Alamein in October, 1942, an American officer was attached to a British armoured division. He witnessed our advance through the Axis artillery barrage and through the well-set minefields. Writing to a friend in New York, he said:
"Incidentally, while I'm on the subject, I'd like to say something about the British Tommy. There's no finer or braver fighting man in the world than the Tommy. For sheer guts and ability to keep coming back time and after, he has no superiors. I remember vividly one night at Alamein, just before the push, that to me exemplifies the fighting qualities of the British. It was in the southern sector, and the Jerries were tucked in snugly behind three minefields. They were trying to get through the minefields. The idea was that the tanks were to blast their way through the minefield gap, spread out on the other side of the fields, and work their way forward. We were being followed up by a unit of light infantry.
"Well, the tanks got through the minefields all right, and the medical officer and I stopped on the other side of the third gap, about three hundred yards behind the tanks. Then all hell broke loose as Jerry opened up with everything he had: 88s, heavy ack-ack fired along the ground, small arms, everything. The tanks were forced to drop back on us, and we had so many casualties we couldn't back up. And then, in the face of one of the worst barrages I have seen, the infantry came up to us and started through.
"I have never witnessed anything like it. At a steady walk, with their rifles at the port, looking straight ahead, they marched into it. I saw men with their heads blown off as they walked, men with arms and legs shot away. There was no hope of getting through, but they kept on, wave after wave of them, and they marched in singing. Usually you could just sort of feel the beat of it under the barrage, but occasionally, for a few brief seconds, the noise of the firing would lift and you'd hear their voices rolling out. I don't think I have ever felt such pride in fellow-men. I was just mightily proud of mankind in general."
What a tribute to the dauntless spirit and sense of duty of the British soldier!

Posted by regimentalrogue at 12:01 AM EDT