The Real Trench Spirit
Topic: Remembrance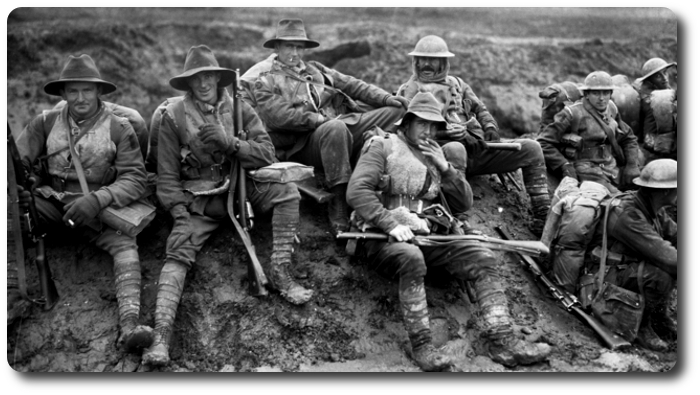 France, December 1916. Unidentified members of the Australian 5th Division, enjoying a "smoko" near Mametz, on the Somme. Some are wearing slouch hats, steel helmets, sheepskin jackets and woollen gloves, demonstrating both the variety of official battledress, and how it was modified and augmented, for local conditions. (AWM E00019 5th Div 1916)
Those War Books
The Real Trench Spirit
The Sydney Morning Herald, 8 February 1930
(By F.M.C.)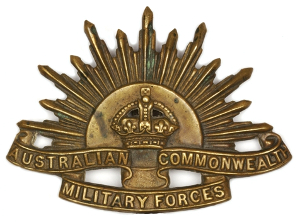 Ian Hay and the author of the article on war books in Wednesday's "Herald" are quite right. The gloom and the horrors of many of those recent war books are overdone; the beastliness too often disfiguring them did not, thank God, degrade active service as the British Army (which included the A.I.F.) saw it; and the depicting of soldiers as beasts (in the words of Ian Hay) is an insult to a gallant generation of our race. Most ex-soldiers, serene at heart in the test they survived, uplifted by the comradeship which they learned in war and cherish still beyond, perhaps, any expression which civilians can understand, regard such travesties of themselves and their fellow soldiers with contempt. "The late unmentionable war," indeed! The ex-soldier of the A.I.F. who does not laugh derisively of it brands himself at once. Not long ago one of the old Diggers, long cut off by some fate from intercourse with his former comrades, met several of them at a Digger's funeral in Sydney. When the emotional ceremony was over, and he found himself returning with two or three in a cab, they made it a long drive back to the Central Station and separation, talking for an hour or more of old war memories. As the lonely one said good-bye, he remarked to the others" "Well it's a ---- of a thing to say, but I have not had such a good day for a long time."
For the last ten years, wherever two or three of "the old mob" are gathered together, the old stories (and by increasingly rare good chance some new ones) have never failed to turn back Diggers' hearts to the war days. You may turn over the pages of the war-time "Aussie," the monthly magazine written by the soldiers in the field (and edited by little Phil Harris), and awaken a host of memories of the Bairnsfatheresque sort. It may be that in other armies soldiers never knew the wit and drollery which redeemed much of the horrors of war for the British soldier; yet if that were so, how did other armies, too, endure four years of such a war?
"Years and Years."
The soldier is grateful still to J.B. Dalley for the sketches of "My Batman" and "The Neuve Eglise Drag Hunt" which he wrote from France for "The Bulletin." Turn over the pages of "Aussie." Here is "The Corporal Story" by H.T.P., of the First Division:
I was a corporal in the A.I.F. for years and years and years,
And I did me bit on the Western Front with the Aussie Pioneers;
And I sometimes think that the roughest job as ever we 'ad in the war,
Was when they sent us up the line to build a camp for Corps.
The unseeing civilian will wonder why the Digger is already grinning. It is a narrative poem worth preserving, rather long for full reproduction here, but these lines reflect its general strain:
My oath, that camp was a roughie—a terrible windy job.
We 'ad casualties every day; I was losin' me bloomin' nob.
Bill and Joe Smith got scabies, and poor old Jock Mackey
'It 'is foot with a 'ammer and got marked down "S.I."
"S.I.," abbreviation, of course, for S.I.W. or self-inflicted wound.
Young Ern stood under a sheet of iron that cracked 'is skull like an egg,
And another chap fell in a borrer-pit and broke 'is bleedin' leg …
And so on, concluding with the quite extraordinary interview with the General, who asks him for advice. Then there is a letter from "sumware in France" after the Armistice from Digger Jim Mulga to his already repatriated brother in Australia:
Dere Steve,
Seein' theres and Armistice on I thort I'd give yer the oil. There ain't no more news as all the stoughin's done in; you will get orl that in the "Bullanganbudgery Herald," as I spose yer still take it. I'm getting' on orlright and still hold me old rank of privit tho' I neely got redooced the other day when I was up for office for workin me nut orf a fatigue party. The boss seems to have me anouted becos I pout the ard word on him for the lend of ten franks when I joyned the unit. … Seein' you've ben over here yer no a bit about q blokes, but we've got a fair cow. I went to him for a peace of soap the other day, and he told me I'd have to bring him back the old peace first. Dinkum. I went to Blighty on leaf a few months ago and looked just it in a bonzer tunick I sooveneered off a salvage dump. I neely did me block on a bonzer tabby I met over there, and was going to put it up to her to get spliced and go to Aussie after the wore. But its orf. I was tellin' her about a hop-over we had, and she sed Yes I suppose them barridges are pritty unpleasant, but you ort to be in an airrade its simply orful. Well I took a tumble that a chap would never get no credit for what he done, and as she coodn't milk I backed out …
How could the civilians at home understand? As "Primus" writes on "Going Home"—
"They wait for us. God, how well their letters have been camouflaged. But now and then just a wee small voice had cried out from between the lines, and we knew it all. We have never had the battles, the hardships, the mud, the ever-present comrades to keep our minds busy in France. They were lonely and could only read the papers, and our poor epistles, and their hearts were brought here, too. Yes, Digger, it's been a long, hard fight … but now we're going Home."
Leave and "Nut-Working."
Sergeant-majors, "quarter blokes," the M.O., and the pay clerk—the stories of them are legion. "Lance Jack's" description of a rifle—"A combination of steel and wood, with a hole bored through the centre for officers to look down to see if the soldier's thumb-nail is clean." Butler-Gye's story of "How Curley worked his ticket," by pretending to be off his head; he was discharged to Australia, and within a month of getting his freedom there he re-enlisted and returned to France with reinforcements to his old "Divvy." The divisional concert companies organised in the field became famous. The King commanded one of them to "do their stuff" in front of him at Buckingham Palace. One of the hits of the 2nd Division troupe, "The Sentimental Blokes," was the "aeroplane trip around the world for thirty bob." Among the passengers was an aged, long-bearded Digger. He explains that he wants to go back to his father's prickly pear farm in Australia. "You're a very old man," says the conductor as he hands him a ticket, "Ah. Yes," says the ancient Digger in quaking voice; "I'm very old now. In fact, I;'m due for my first leave. I'm No. 9—I've been through everything." Or again, the kind old lady visiting the Digger in hospital: "Do you ever get leave?" "Yes, ma'am, once a war—at the end of the war." Does any gunner still remember the classic "revised gun drill?" So, too, at every reunion still may be heard the hymn-tune choruses first composed to the tramp of route-marching feet, when the padres diligently tried to encourage the troops to forget monotony in song. The genius who composed "We are the rag-time army" to the tune of "The Church's one foundation" has secured immortality.
In one issue of "Aussie," Driver Baldwin composed his lyric to his "donks:"
I've scratch'd me 'ead an' bit me nails an' kept me brains a-rackin',
Athinkin' of another game to beat the one called packin'
It sorter gets yer thinkin' when the night's as dark as pitch,
And yer donks get mad and stubborn, and yer packs they want a 'itch.
They maybe "snap" goes some blame strap, and yer wondrin'if it'll holt,
And while yer tries to fix things up yer orf-donk does a bolt
An' Fritz don't stop his bloody fire to let yer fix things well.
And tho' yer cold—yes, freezin'—'e shoots as 'ard as 'ell.
Yer swear an' fix the flamin' strap inter a travellin' state,
Then kicks you donk an' in the dark yer grops round for 'is mate;
Yer find 'im freezin' meek an' calm with 'is front leg through the rein,
Yer cuss at him and fix 'im too, then orf you go again.
But it ain't no use yer grumblin', it don't make things no better,
Just 'ump yer kit and do yer bit accordin' to the letter.
Yer wants to know 'oo gives these tips—till now 'e's a survivor.
'E knows a bit about the donks—'e ought to; 'e's their driver.
These are only some samples of the current history of the Australian soldiers in the line in France, as recorded by themselves for relief of individual feelings, a relaxation from the demands of military discipline, and the amusement of their cobbers. The men who accomplish such efforts were neither demoralised or degraded by the horrors od war; rather they uplifted themselves above such a fate by virtue of their combined high hearts and courage. It is a great loss of Australia that she never saw her wonderful war army in being.

Posted by regimentalrogue at 12:01 AM EDT