Chillianwallah
Topic: The Field of Battle

Chillianwallah
Rorke's Drift, Michael Glover, 1997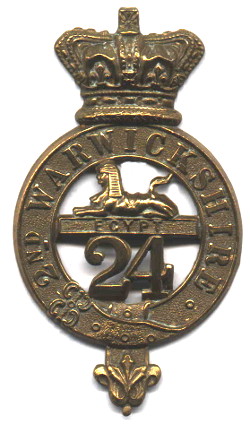 If Chard had any qualms, they can scarcely have extended to the reliability of the Twenty-Fourth Foot. Their tradition of steadiness and bravery went back through Burgos, Alexandria and Malplaquet to Blenheim. No regiment of the line could excel them for reliability. On the other hand they had been a consistently unlucky regiment. Their first operation outside the British Isles had been a disastrous raid on Brest in 1694. In 1741 they were at the mismanaged, fever-ridden siege of Cartagena in what is now Colombia, an operation which cost them twelve officers and eight hundred men. Fifteen years later they were one of the regiments which had had to surrender when Admiral Byng failed to relieve Minorca. In 1777 they had had to capitulate again with Burgoyne at Saratoga. At Talavera they lost almost half their strength in extricating the Guards Brigade from the consequences of their uncontrollable ardour. A year later, in 1810, two shiploads of their 1st battalion had been captured by a French warship off Madagascar. The colours had been thrown overboard to keep them out of the enemy's hands. None of these misfortunes were of the regiment's own making but, taken together, they suggested that if there was any bad luck to be had the Twenty-Fourth would have it.
The officers of both battalions of the regiment had dined together at Helpmakaar two days before the advance into Zululand had started. It was a few days short of the thirtieth anniversary of Chillianwallah and Captain William Degacher, second-in-command of the 1st battalion, proposed the toast, "That we may not get into such a mess, and better luck next time"- Twenty-one of the officers present were to die in action within a fortnight.
Chillianwallah, a village near the Jhelum river sixty miles south of Rawalpindi, was the scene of a desperate battle in the second Sikh war. 12,000 British and Indian troops attacked 30,000 Sikhs in a naturally strong position. The Twenty-Fourth formed part of a division commanded by Colin Campbell, later the hero of the Indian Mutiny. Having given their brigadier his objective, Campbell rode away to supervise his other brigade pausing only to tell the Twenty-Fourth to make the attack without firing a shot. They advanced through thick jungle which broke them into small detachments before they came in sight of the enemy. Refusing them time to reform their brigadier urged them on to the attack. Under a storm of grapeshot, which killed the impetuous brigadier, they advanced 850 yards, reached the Sikh guns and spiked them. They suffered heavily and had no semblance of regular order. Their flanks were in the air, as the sepoy battalions ordered to support them had not come forward. A Sikh counter-attack overwhelmed them. They had gone into action with 31 officers and 1,065 other ranks. 13 officers and 225 men were killed, 9 officers and 278 men were wounded. The Queen's Colour was lost. [Footnoted: The Colour was not captured by the Sikhs. When the ensign carrying it was killed, it was rescued by a private soldier who wrapped it round his body under his tunic for safety. He was killed soon after and, unwittingly, the colour was buried with him.] Five years later one of the consolations offered to a survivor of the charge of the Light Brigade was 'It is nothing to Chillianwallah'.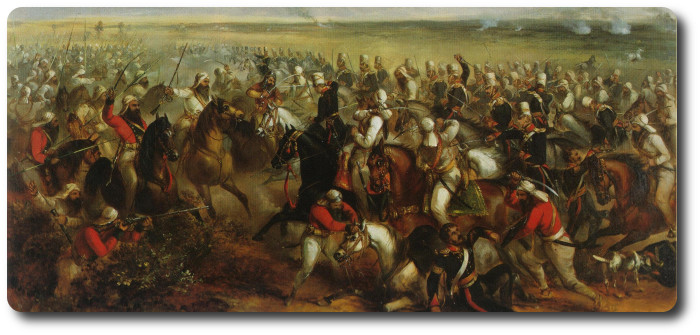 Posted by regimentalrogue at 12:01 AM EDT