Japanese Paratroop Rations, 1944
Topic: Army Rations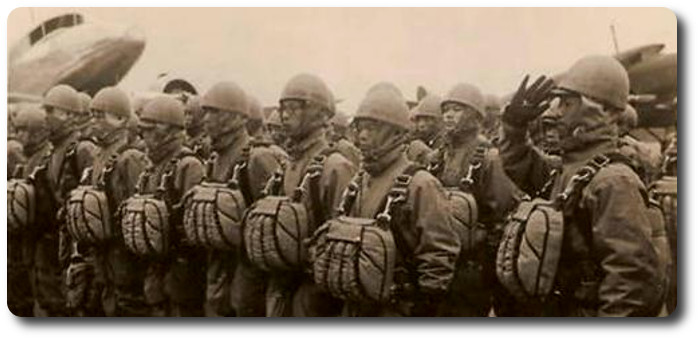 Japanese Paratroop Rations, 1944
Japanese Patachute Troops, Special Series, No. 32, MID 461, [US] Military Intelligence Division, 1 July 1945
Sources do not often distinguish between Japanese Army and Navy paratroop rations. It is believed that the Japanese initially planned an ordinary 3-day ration to be carried in the haversack of each paratrooper. These rations provided an adequate diet and consisted of 2 ¼ pounds of rice, two tins of canned fish, two tins of canned meat, and 1 ounce of tea, Chocolate is also known to have been carried by some paratroopers; while glucose sweets, cigarettes, minor medical supplies (iodine, bandages, etc.), and a flask of rum were carried by parachutists in the Netherlands East Indies.
Regulations issued as late as August 1944, however, provide that a 2-day ration is to be carried by each paratrooper during descent. It is reasonable to assume that ration components are similar te the earlier issue.
In addition, paratroopers were to carry "iron" rations. These were in wafer form, consisting of ground rice and wheat with some sesame. To supplement the wafer, paratroopers were fed extract of mussel flesh, dried plums, preserved ginger, crushed bean meal, and mori (made of dried seaweed which contains alkaline substance, soda, and iodine). One meal weighed 200 grams (7 ounces). The Japanese claim that these rations, by test, have withstood the climatic conditions of Malaya, the East Indies, the Philippine Islands, China, Manchuria, and Siberia.
Japanese parachutists dropped in Hunan Province of China in the summer of 1944 were reported to have carried a small bamboo box containing about 1.36 pounds of white "flour." This specially-prepared flour, when mixed with either hot or cold water, changes to a sweet paste which is used as a staple food. One 1.36-pound unit of "flour" provided sufficient food for one man for a period of 1 week.
For water, each paratrooper probably still carries the regular canteen. It is reported "water sausages" also have been used. These appear to be a water-filled length of a tough cellophane-like substance tied into short lengths. These are bitten into as needed and the contents drunk. In use, they are supposed to be carried either in pockets or slung around the neck. Small tubular filters, presumably for drinking water from untested sources, may also be carried.

Posted by regimentalrogue at 12:01 AM EDT