Royal Military College of Canada; Course of Instruction (1875)
Topic: Officers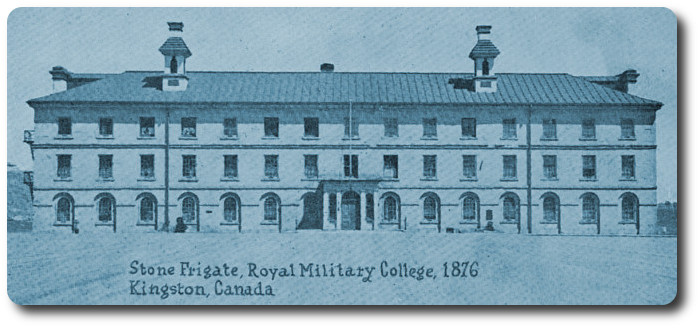 Royal Military College of Canada; Course of Instruction (1875)
Government Notices; Regulations Respecting the Military College at Kingston, Militia General Orders; Canada Gazette, 18 December 1875
1. The length of the course will be four years. If any Cadet fail to come up to the required standard at any two periodical examinations or be found unable to qualify in his studies, or to acquire sufficient proficiency in military exercises, he will be removed. No extension of the above period on account of absence from any cause except illness, will be granted. Cases of protracted absence on account of illness will be specifically referred to the General Officer commanding.
2. The following subjects will form the course of obligatory studies.
(1) Mathematics, including Plane Trigonometry, practical mechanics with application of Mathematics to machinery.
(2) Fortification, Field and Permanent, Geometrical Drawing.
(3) Artillery.
(4) Military drawing, Reconnaissance, surveying.
(5) Military History, Administration, Law, Strategy and Tactics.
(6) French or German at the student's choice.
(7) Elementary chemistry, Geology, &c.
(8) Drawing, Free hand figure and landscape.
(9) Drills and exercises:
Infantry,
Artillery,
Engineer,
Riding, sword exercise, &c.,
Gymnastics,
Swimming.
(10) Discipline.
3. In addition to the obligatory course every cadet will be allowed at his option to take up certain voluntary subjects, viz.:
(1) Higher Mathematics,
(2) Higher Fortification,
(3) Higher Chemistry, Physics,
(4) French or German (other than the language taken up in obligatory examination),
(5) Architecture, construction, estimating, &c.,
(6) Hydraulic engineering &c., &c.
4. No obligatory subject shall obtain a Cadet any marks unless he obtains a minimum of one half marks in it.
5. No Cadet will be considered qualified unless he obtain at least one half marks in the obligatory course in mathematics, Fortification, Artillery, Military History, Administration, &c., &c., and one half the total aggregated of the marks allotted to all the obligatory subjects.
6. No voluntary subject shall gain a cadet any marks unless he obtain a minimum of at least one third of the marks assigned to that portion of it in which he is examined. The marks gained in the voluntary subjects will be added to those obtained in the obligatory subjects and to these gained during the College Course, the whole to make a second total, according to which cadets shall be finally placed.
7. The final examination will be conducted by examiners independent of the College.

Posted by regimentalrogue at 12:01 AM EDT