German March Discipline (1942)
Topic: Marching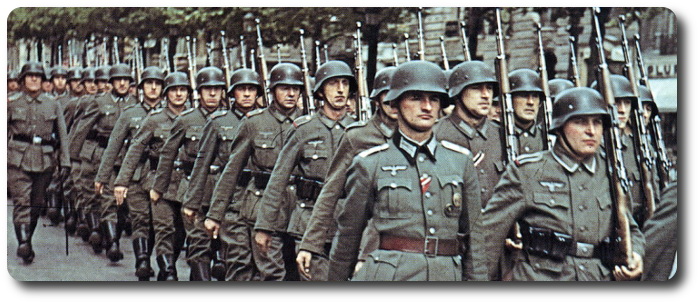 German March Discipline (1942)
German Tactical Doctrine, Special Series No. 8, Prepared by [the US] Military Intelligence Section, 20 December 1942
Rates of March
Since it is important to provide conditions which permit an even rate of march, the mixing of different sorts of troops should be avoided as much as possible.* On good roads and under favorable conditions the following average speeds can be accomplished:**
| | |
| --- | --- |
| | Per hour |
| Foot troops | 5 km (3 mi) |
| Foot troops (small units) | 6 km (3 ½ mi) |
| Mounted troops (trot and walk) | 7 km (4 mi) |
| Mounted troops (trot) | 10 km (6 mi) |
| Bicyclists | 12 km (7 ½ mi) |
| Motorcyclists | 40 km (25 mi) |
| Large organizations with all weapons: | |
| (1) Including rest periods | km (2 ½ mi) |
| (2) Under stress, without rest periods | 5 km (3 mi) |
| Motorized units | 30 km (18 mi) |
* Pack animals are one disturbing factor in maintaining an even rate of march.
** For foot troops under ordinary conditions the distance prescribed as a "buffer" between companies, or similar units, is 10 paces; for mounted troops and trains, 15 paces. Such distances do not apply, of course, when air defense depth has been ordered.
Intense heat, poor roads, snow, ice, absence of bridges, and other local conditions greatly influence the march rate and the travel distance accomplished. The rate for foot troops on a cross-country or mountainous march decreases from the normal hourly rate by as much as 2 or 3 kilometers.
When great distances must be covered rapidly, motor and rail transportation can be used to expedite marches; for distances under 150 kilometers (93 miles) the use of motor transportation is recommended. When circumstances require foot or mounted troops to make forced marches, every effort is made to assist the accomplishment. Strict march discipline is preserved, and severe measures are meted out against malingerers. The men are told why the particular march is being made, and arrangements are made for rests where refreshments such as hot coffee or tea will be served. Their packs are carried, if possible, in trains.
March Rests
The commander should indicate in the march order all the necessary information concerning the duration and other conditions of the march. An officer should be sent forward to reconnoiter suitable areas for rests. Arrangements should be made for a short halt, not longer than 15 minutes, to begin after the troops have marched about 2 kilometers (1 ¼ miles) so that equipment and clothing may be comfortably readjusted on the men and animals. The troops remain near the road during such short periods, spreading out only a sufficient distance to secure cover from hostile air observation. When a long march is made, halts are ordered about every 2 hours. Rest periods are utilized for eating, drinking, feeding animals, and checking vehicles. The stopping places should be near water and not too restricted. In summer a rest should be prescribed during the hottest time of the day. During long rest periods the troops are arranged in groups; and when hostile airplanes approach, the air guards sound the warning and the troops take cover, remaining motionless.

Posted by regimentalrogue at 12:01 AM EDT
Updated: Friday, 5 May 2017 7:20 PM EDT