Short Rifle, Magazine Lee-Enfield (Mark III)
Topic: Militaria

Short Rifle, Magazine Lee-Enfield (Mark III)
Once Canadian troops in the First World War divested themselves of the Ross Rifle, which had proven very unsuitable for battlefield use, this was the weapon they carried to victory in 1918.
The following is paraphrased from Wikipedia.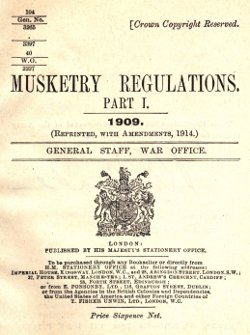 The Lee-Enfield bolt-action, magazine-fed, repeating rifle was the main firearm used by the military forces of the British Empire and Commonwealth during the first half of the 20th century. It was the British Army's standard rifle from its official adoption in 1895 until 1957. It featured a ten-round box magazine which was loaded with the .303 British cartridge manually from the top, either one round at a time or by means of five-round chargers. The Lee-Enfield was the standard issue weapon to rifle companies of the British Army and other Commonwealth nations in both the First and Second World Wars (these Commonwealth nations included Australia, New Zealand, Canada and South Africa, among others). Although officially replaced in the UK with the L1A1 SLR in 1957, it remained in widespread British service until the early/mid-1960s and the 7.62 mm L42 sniper variant remained in service until the 1990s. The Canadian Forces' Rangers Arctic reserve unit still use Enfield No.4 rifles as of 2012, with plans announced to replace the weapons sometime in 2014 or 2015. Total production of all Lee-Enfields is estimated at over 17 million rifles.

Posted by regimentalrogue at 12:01 AM EDT