Ada Andrews Kemp, Nursing Sister
Topic: Militaria

Ada Andrews Kemp, Nursing Sister
A Nurse's First World War Photo Album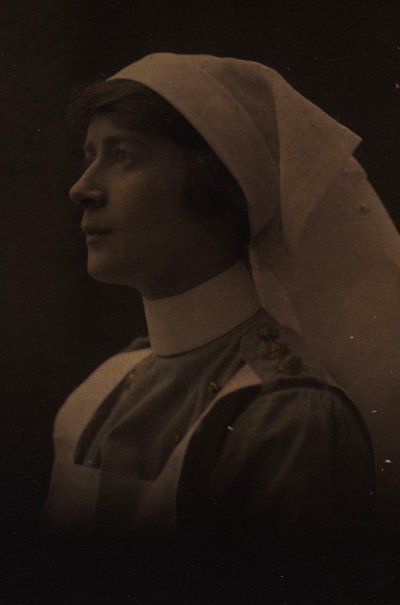 Ada Andrews Kemp was born in Essex Co., England on 2 June 1895. She emigrated to Canada in 1903 as a Bernardo foster child, i.e,, an orphan, where she lived in Port Hope, Ontario, as a domestic servant to the family of Alexander Walsh.
Having trained as a nurse, Ada Kemp attested for overseas suervice in the First World War on 11 April, 1917, at the age of 21. She was sorn in as a nursing officer at the Toronto Base Hospital.
Throughout the war, Ada Kemp maintained a photo album. Containing over 200 photographs, the majority of them smal images taken with a personal camera, it shows glimpses of her experiences during the war and the people around her in the Hospitals where she served.
Although a detailed look at Ada's military service would require a copy of her service record, we can glean a few details from online searches of the London and Canada Gazettes:
Ada Andrews kemp was appointed to the rank of Nursing Sister on 11 April 1917 (Canada Gazette 23 Jun 1917)
Ada Kemp was awarded the Royal Red Cross, Second Class (London Gazette 23 Feb 1917)
In the post war Canadian Army, Ada was again appointed to the rank of Nursing Sister on 12 June 1919. (Canada Gazette 4 Oct 1919)

Ada Kemp's Attestation Paper

Ada Kemp's Entry in the Soldiers of the First World War Database at Library and Archives Canada:

Name: KEMP, ADA ANDREWS
Rank: NS
Date of Birth: 02/06/1895
Reference: RG 150, Accession 1992-93/166, Box 5069 - 5

Nursing sisters from Port Hope (source)

Miss Emma Frances Elliott – Four years' Service - 1915 Star
Miss Harriet Gertrude Hudspeth – Four years' Service - Mons Ribbon
Miss Ada Kemp – Four years' Service
Miss Etta McLean – One year's Service
Miss Myrtle McMillan – Four years' Service
Miss Mary McNaughton – Four years' Service
Miss Edith Elgin McNaughton – Served with American Army
Miss Pansy Eva Roberts – Four years' Service
Miss Pearl Edna Wood – Four years' Service
Posted by regimentalrogue at 12:01 AM EDT