Last Mess Dinner of the 5th CMR
Topic: CEF

Last Mess Dinner of the Canadian Mounted Rifles
Officers gathered at Windsor Hotel to Honour Lt. Col. Rhoades
Tribute to Fallen
Ex-Commanding Officer Said Total casualties had been
107 Officers and 2,943 Men
The Montreal Gazette, 5 April, 1919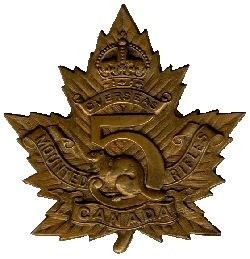 Many decorated heroes foregathered last evening at a dinner given at the Windsor Hotel by the returned officers of the 5th Canadian Mounted Rifles in honour of their ex-commanding officer, Lieut.-Col. W. Rhoades, D.S.O. (with bar), M.C., Croix de Guerre and Mons Star, also wearing the Queen's South Africa medal and the Coronation decoration.
The dinner was arranged as a reunion for the returned officers of the 5th C.M.R., and as a send-off to Lieut.-Col. Rhoades, who is leaving in a few days to take an appointment at the Royal Military College, Kingston.
The function took the form of a regulation mess dinner, and Major J.S.E. Todd, M.C., was mess president, with Lieut. J.J. Harold, M.C., as vice-president. Among those present were Major J. Hawson, M.C., Capt. Lelanne, M.C., Capt. H.S. Cox, M.C., Capt. H. Daubney, M.C., Capt. C.J. Hanratty, Capt, H.R. Gifford, M.C., Lieut. B. Porter, M.C., Lieut. L.A. Atto, M.C., and Lieuts. J.S. Gifford, R. Eberis, Dunning, and R. Poley, M.C. Amongst other guests were Lieut.-Col. G. Munroe of the 8th C.M.R., Ottawa; Lieut.-Col. Vipond, D.S.O., Brigade Major Campbell, D.S.O., M.C., Ottawa, Major Wilcox, Magog, and Lieut.-Col. Bradley, Sherbrooke.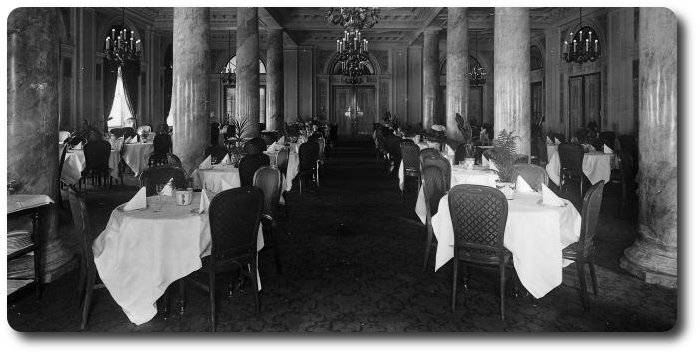 Many Casualties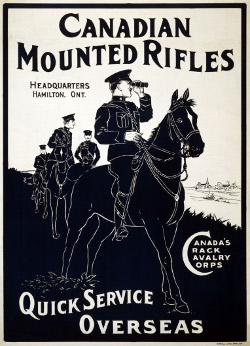 A warm reception was given Lieut.-Col. Rhoades when he rose to speak of the history of the Mounted Rifles and the splendid work they had done overseas. He remarked that the C.M.R. Had always worked together at the front as a happy family, officers and men always being willing to take their share of the hard work and hard knocks.
Lieut.-Col. Rhoades paid tribute to the memory of the late Lieut.-Col. Harry Baker, who organized the regiment, and died at its head, and the many other who had given their lives from the 5th C.M.R. During the war. He said that the regiment had lost 18 officers and 467 other ranks killed in action, while four officers and 150 other ranks had died of wounds. In addition to this the records showed missing or prisoners of war, four officers and 221 other ranks; wounded, 81 officers and 2,000 other ranks, making a total casualty list for the regiment during the war of 107 officers and 2,943 other ranks.
After giving these details, Lieut.-Col. Rhoades led a silent toast to the departed officers and men of the 5th C.M.R.
Following this brief speeches were given by Lieut.-Col. Vipond and Lieut.-Col. Munroe, who paid tribute to the late Major D'Arcy Smith, who was killed during a particularly daring raid on the enemy trenches.
---

Posted by regimentalrogue at 12:01 AM EDT