CAF Withdrawal in Europe Commences (1970)
Topic: Canadian Army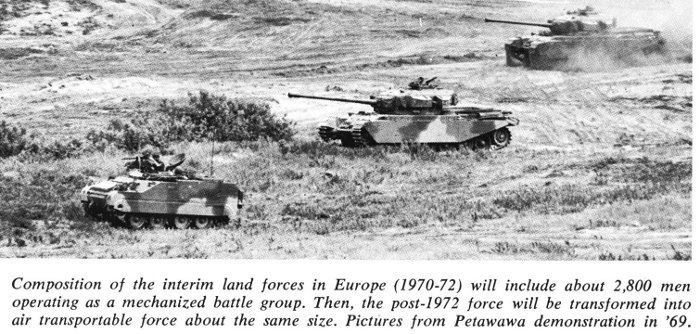 Images are taken from the magazine of the Canadian Armed Forces, Sentinel, Vol. 6, No. 2, February, 1970.

Forces hope for new tanks from Trudeau
The Ottawa Citizen, 6 July 1970
By Greg Connolley, Citizen Staff Reporter
Soest, Germany.—Would Prime Minister Trudeau care to spend $30,000,000 to buy new tanks for the Canadian mechanized land forces in Europe?
The acquiring of 60 new Centurion tanks from the British is a fond hope, perhaps dream, of some of the Canadian officers stationed here who want Canada to continue a substantial military contribution to NATO.
Indications at the moment are that the prospect of the Canadian mechanized battle group replacing its aging Centurion tanks with the Chieftains is rather remote. Indeed by 1972 or 1973 the land forces may have to give up all their heavy equipment and mey even have been sent back to Canada.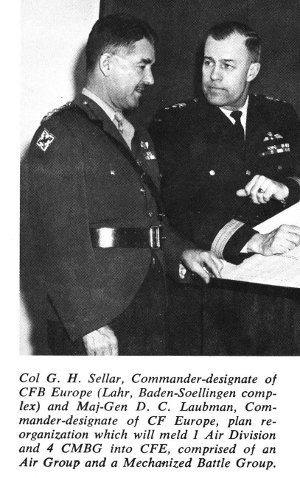 No wonder that personnel of the armed forces in Europe are confused about pending and future changes. Even Defence Minister Cadieux seems far from clear as to what the future holds for Canadian forces in Europe.
The Trudeau Government has already set massive changes underway for the services abroad. The economy order to cut the 10,000 man strength of the land brigade and the air division to 5,000 will see 15,000 men, wives and children come home this year.
7,700 Moving
And the move of what is left of the brigade to the Lahr area will see 7,700 servicemen and dependents on the move via the autobahn and railways in September.
If the authorities can find enough accommodation for everyone at Lahr and nearby Baden-Sollingen where the air force will be located, the strength situation will be something like this:
The original mechanized brigade, which had 5,600 personnel and 1,500 vehicles, will be reduced to a mechanized battle group of 2,800 servicemen with 1,200 vehicles. The air division, which had six squadrons, will be replaced by three squadrons of Starfighters, one to be used for reconnaissance and the other two for nuclear strikes, should that become necessary.
Only Shortcoming
Lt.-Col. Rene Gutknecht, senior staff officer (operations) with the new battle group would love to see his unit get the new Chieftain tanks. The only shortcoming in the Canadian land force, in his view, is the Centurion tank which has been around in various versions since the Second World War.
Col. Gutknecht says the addition of new tanks to his unit would make it a viable mechanized force for years to come. He believes Canada should retain a mechanized force and not lose this skill.
It would be fair to say that if Col. Gutknecht, who is a highly regarded officer, had his way, Canada would maintain a mechanized land force in Europe, preferably armed with the latest British tank.
However, Mr. Cadieux has spoken of even the present modified role of the ground forces in Europe as being temporary. By 1972 he has suggested they may be converted to light, airmobile forces, shorn of all their tanks and heavy artillery and personnel carriers.
Plan Opposed
But many Canadian officers abroad think there is an "if" in this project announced by Mr. Cadieux. They hope it won't come about.
Yet, there is the pattern for the forces in Canada—lightly equipped forces that can move rapidly to meet a crisis in the Arctic or in world peace-keeping.
However, if Mr. Cadieux and prime Minister Trudeau decide to convert the army forces abroad from mechanized to mobility, it will cost a great many millions of dollars for new equipment, new transport aircraft—to an extent that the $30,000,000 for new tanks might look pretty modest by comparison.
What about the future of the three remaining air squadrons? By 1972 they will give up their nuclear bombs as the land element gave up their nuclear warheads this summer. The flying sector of the Canadian armed forces would like to convert in 1972 to an attack role using their Starfighter jets and conventional weapons.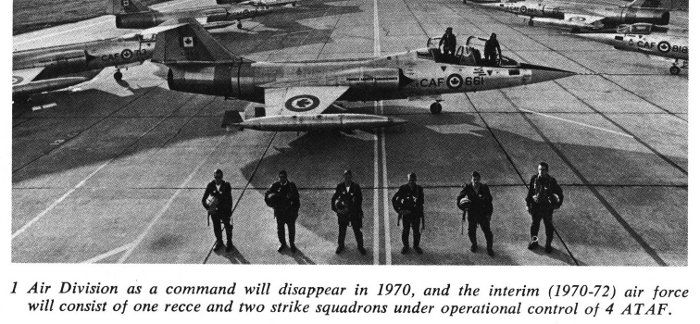 Doubtful Future
There seems to be little enthusiasm among the squadrons to be re-equipped with the CF-5 ground support planes being produced by Canadair. Indeed the whole future of this aircraft seems to be in doubt, although several home squadrons have been equipped with it.
The determination of Prime Minister Trudeau to cut back Canada's NATO contribution has caused curious consequences. One development is that the Canadian land forces are leaving a front line NATO position on Northern Germany, much to the annoyance of the British, and moving to a southern reserve sector, under the Americans who don't particularly want them.
Nevertheless, Col. Gutknecht says his troops can fulfill a useful role in the Lahr area.
But Col. Gutknecht has hopes for his land forces and the desires of the air squadrons depend ultimately on what is decided in Ottawa. And that decision could be complete withdrawal from Europe—something Mr. Trudeau reportedly favors and something many of the military fear is only a matter of time.

Posted by regimentalrogue at 12:01 AM EST