The 1953 Coronation Contingent
Topic: Canadian Army

The 1953 Coronation Contigent from the 2nd Battalion, The Royal Canadian Regiment.
Front (L to R); Sgt Craig, Cpl Sim, Lt Darling, Maj Medlund, WO I McManus, Sgt Payne, Sgt Wilkinson.
Centre (L to R); Cpl Earle, Cpl Gnatiuk, Cpl Grant, Pte Llewellyn, Cpl Camelon, Pte Kavanaugh, Pre Arsenault, Pte Kynock.
Back (L to R); Cpl MacDonald, Pte Howlett, Pte Veysey, Pte Hurst, Pte Delaney, Pte Coady.
From the journal of The RCR The Connecting File, Spring-Summer, 1953, Vol. XXV, No. 1.
Three Services to Form Coronation Contingent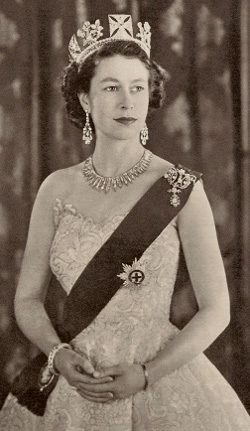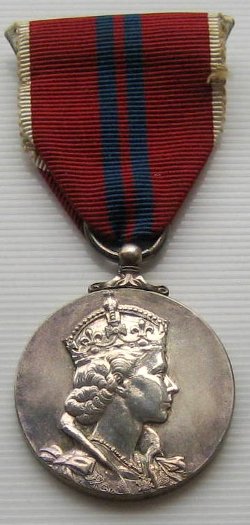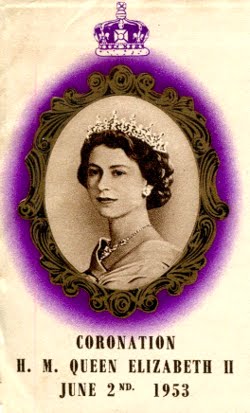 Ottawa Citizen, 19 Jan 1953
By Frank Swanson, Ottawa Parliamentary Writer
A contingent of 736 officers and men will represent Canada at the June 2 coronation ceremonies in London. It was announced yesterday by Defence Minister Claxton.
They will be representative of all three armed services and of both active and reserve units, Korean veterans and serving members of the Canadian army brigade in Germany and Canadian air forces overseas will be included.
They will be chosen on the basis of good conduct, meritorious service, and, as afar as possible, will be picked to give appropriate representation to all parts of Canada.
Four mounted officers of the Royal Canadian Horse Artillery in colourful full dress uniform will form part of the Sovereign's escort. The remainder of the army contingent will wear No. 1 blue dress uniform, heretofore reserved for the exclusive use of officers on formal occasions.
General Crerar, ADC
Mr. Claxton said the H.D.G. Crerar, who commanded the First Canadian Army overseas during the war will attend the coronation in his capacity as the only Aide-de-Camp General to Her Majesty the Queen.
Canadian warships and Canadian Sabre jet fighters will take part in impressive review ceremonies at Spithead. The service contingent from this side of the Atlantic will cross to England on board the warships.
Four hundred officers and men will be drawn from active forces in Canada, England, France and Germany. There will be 336 reservists who will line the streets around Trafalgar Square.
Here is the breakdown of officers and men by services:
Army, 206 active force and 201 reserve force personnel.
Navy, 78 active force and 45 reserve force personnel.<.li>
Air Force, 90 active force and 116 reserve force personnel.
Korean Veterans
The army representation will include officers and men who are veterans of Korea and who are now in Canada, as well as paratroopers. A representative group of army men will come from 27th Infantry Brigade Group in Germany, including the band of the Royal 22nd Regiment—the famed "Van Doos"—which will be on duty with the brigade at the time. The bandsmen will wear full dress scarlet uniforms and bearskin headgear.
Officers and NCOs, said Mr. Claxton, will be appropriate to the size of the formation in numbers.
"The selection of all personnel active and reserve, will be based on all-around service records with preference going to those who have received decorations or may have been mentioned in despatches while on overseas service, plus good conduct as well as physical condition and appearance. As far as its possible selection will also be made to give appropriate representation to the different areas of Canada," he said.
Women Included
Nursing sisters and representatives of the women's services will also be included.
In addition to the naval units which will participate in the review at Spithead, No. 1 Fighter Wing of the RCAF based at North Luffenham, England, and possibly No. 2 Fighter Wing at Grostenquin as well, will take part in the fly-past with their Canadian-built Sabre jets.
The active army department will be made up of two companies of four platoons each. For one company, The Royal Canadian Regiment, the Royal 22nd Regiment, and the Princess Patricia's Canadian Light Infantry will each supply one platoon, and the fourth will represent service units and administrative personnel.
The other company will be drawn from the 27th Brigade in Germany, with three battalions there each supplying a platoon, and the fourth being drawn from service and administrative units. The RCN and RCAF detachments will be organized along similar lines.
The main parties will arrive in Britain May 15, get one week of leave, and will return to Canada about the middle of June.

Posted by regimentalrogue at 12:01 AM EST
Updated: Monday, 13 January 2014 12:06 AM EST