The Importance of the Sergeant-Major
Topic: Humour
The Importance of the Sergeant-Major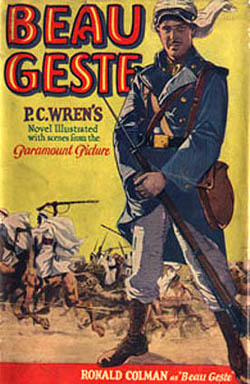 Beau Geste, Percival Christopher Wren, 1927
He ignored me and all other insects.
How to attract his attention ?
I coughed gently and apologetically. I coughed appealingly. I coughed upbraidingly, sorrowfully, suggestively, authoritatively, meekly, imperiously, agreeably, hopefully, hopelessly, despairingly, and quite vainly. Evidently I should not cough my way to glory.
"Monsieur le Capitaine," I murmured ingratiatingly.
The man looked up. I liked him better when looking down.
"Monsieur would appear to have a throat-trouble," he observed.
"And Monsieur an ear-trouble," I replied? in my young ignorance and folly.
"What is Monsieur's business?" he inquired sharply.
"I wish to join the Légion Étrangère," I said.
The man smiled, a little unpleasantly, I thought.
"Eh, bien," he remarked, "doubtless Monsieur will have much innocent amusement at the expense of the Sergeant-Major there too," and I was quite sure that his smile was unpleasant this time.
"Is Monsieur only a Sergeant-Major then?" I inquired innocently.
"I am a Sergeant-Major," was the reply, "and let me tell Monsieur, it is the most important rank in the French army.'
"No?" said I, and lived to learn that this piece of information was very little short of the simple truth.
Posted by regimentalrogue at 12:01 AM EST