The Tiddley Rig (Second World War, RCN)
Topic: RCN
Once Upon a Navy
By: Master Warrant Officer J.L.Wilson.
Published in the Canadian Armed Forces publication, Sentinel, 1973/5, volume 9, number 5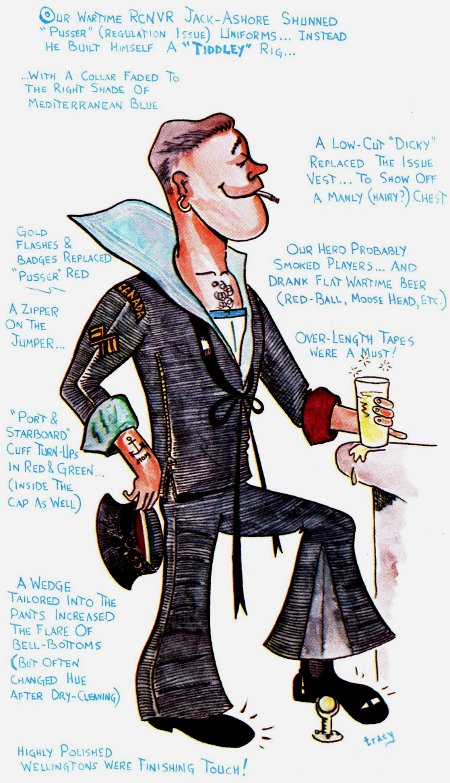 We swung, although the word wasn't in vogue yet.
For most of us were young and adventure beckoned. Never mind what the veterans of the Iceland escort stops muttered at us with a headshake.
So, in the beginning, and until we learned, it was a skylark.
If you were a deck-ape you bought a Green River knife and fashioned your own sheath for it. But this, whether you were a simple seaman, clinker-knocker or whatever, came after getting a wedge put in your trousers to swell the bell-bottoms.
And after that you saved for a tailor-made tiddley with gold badges to replace the pusser issue uniform with its red badges, tied a Newfoundland nickel or a three penny bit in the bow of your HMCS cap tally, bought a colorfully lined port and starboard cap, a Burberry and a white scarf. WelIington shoes or boots (kept always glossily polished), some hand-sewn Mediterranean-blue collars with lightly stitched tapes. and some dicky fronts to replace the issued flannel vests and the coarse-blue sea jersey. Some even went so far as to line their jumper cuffs green in the starboard sleeve and red in the port, and then folded them back when at rest in a pub.
Cap flat-aback, of course. for we thought ourselves special and were proud.
There were many other things. too. The extra-long tapes to hold the bight in the silk at the bottom of the V in the jumper, and a zipper in the jumper side for easy dressing, sword-matting in the nettles of the hammock, and blue-trimmed summer whites instead of the issued ducks for the real Jack-ashore.
But memory has bIurred most of it, or taken it away completely.
The learning started for many in the ubiquitous corvettes.
Others began it in minesweepers, destroyers and frigates and a host of other craft, or else served as gunners in the plodding and gallant merchantmen, and wherever the war could lead them.
And then in HMCS Royalmount we reached perhaps the limit of affectations. Most of us wore a single gold ear-ring in the right ear. But only because the captain, Lt.-Cmdr. Jim Davis. wore a silver one. and we upped our grade in imitation and out of profound respect for this bearded, hard-bitten and excellent captain who had previously commanded fairmiles and the corvette La Malbaie.
Although by then a lot of us had learned in southern waters and elsewhere, and in going down the beautiful Foyle or out through the narrow gap at St. John's and into the weather and wet and hives and monotony, the ice, fog and sleeplessness and the other handshakes with the filthy North Atlantic.
And we were changed, felt older than we looked. wore our caps squared off, had largely given up the nonsense and had learned how to milk enjoyment out of the few days at either end of the mid-ocean escort run which broke the pattern for a while.
Or until other patterns were broken completely. as they were for friends in ships whose names will sail for so long as memory lasts.
But all of this was a long time ago, although it sometimes seems as near as yesterday.
As near, in fact. as when we were young swung and there was an RCNVR, RCNR, and RCN.
---
See also:
Posted by regimentalrogue at 12:01 AM EDT