Medal Collecting; To Clean or Not to Clean
Topic: Medals
The First World War trio of medals awarded to 477858 Private Joseph Smith of The Royal Canadian Regiment. With faded and fraying ribbons, the group remains in the condition it was in when Smith likely last wore them.
To clean or not to clean ... that is often the question that arises between medal collectors, and there's no single "right" answer. Some collectors take a hard line to one extreme or the other. They may be in the camp that says each medal or group should look like the soldier was about to wear it on parade. To them, taking pride in the medals to the same degree as the soldier would have is honouring their memory. Those with a diametrically opposing view feel justified in keeping the medals frozen in the moment and condition at which they were acquired. For them, the condition of medals is also part of their story, and they desire to protect that historical edge and honour the full history of the medals and the man.
Some medals are found in pristine condition, untouched and still in their mailing packets, never worn by a soldier who, if not deceased, could never bring himself to mount and wear them for his own very personal reasons. Others might be clean, well-mounted yet still in an "as worn" condition, showing the signs of respect from long years of prideful wear. They might have been remounted as ribbons wore out, and in many cases, an old soldier's polishing habit may have worn the finer details from the face and reverse of each disc and star.
Just as each soldier found his own reasons for the level of care he gave his medals, so each collector has to decide where they fall on the spectrum between "to clean" or "not to clean."
At one end of that spectrum you will find the "no clean" collectors proudly showing their collections with medals mounted "as [last] worn" by the original owners. You may find tattered ribbons, worn and faded from decades of wear at memorial occasions, even mismatched ribbons when remounted by inexpert hands, medals crowded on a too-small bar, or those which have been polished nearly smooth. From the 1960s we find examples where soldiers knew they were wearing down their medals from much polishing, and they might have decided to have their medals treated by the new electro-plating technologies that became available for individual items. This process might change the appearance of the medals from an as-issued state, but they remain as the soldier chose to wear them. For these collectors, cleaning solely to remove obviously out of place dirt, or damaging verdigris, become the extent of their treatment before adding them to their collection mounts.
At the opposite end of the spectrum you will find the "clean" camp. For some of these collectors, every medal deserves to be carefully restored as closely as possible to an as new condition. This might include new ribbons (preferably original silk … only original silks for some) and mounted exactly as the soldier would have worn them on parade in accordance with regulations.
In both camps, the two extremes actually being a poor representation of the broad spectrum of possibilities, you will find those who choose only silk ribbons over replacement polyester, and members considerd to be in either group might choose to mount medals in court mountings, carefully securing each medal in place, rather than the risks of additional edge-knock wearing when medals are mounted in traditional swing mounting (i.e., loose and dangling). Every combination of cleaning, ribbons, mounting, etc., is possible and each collector chooses their path … and sometimes change their usual routine to present specific examples in the best manner to tell part of the recipient's story.
Even when the decision is made to clean and shine medals, a collector needs to be careful, the approach that a soldier may have taken while serving (or after) may not be the best approach to clean and/or shine medals in a collection. Soldiers learn to use abrasive polishes like Brasso and Silvo which, while excellent at their tasks, are truly abrasive and this will show over the long run as medal surfaces are slowly worn down. Luckily for the modern collector, the least invasive method to shine medals is the use of a jeweler's dip to preserve the shine and minimize future requirements for handling or polishing. This, of course should be done while the medals are off their ribbons during a remounting operation.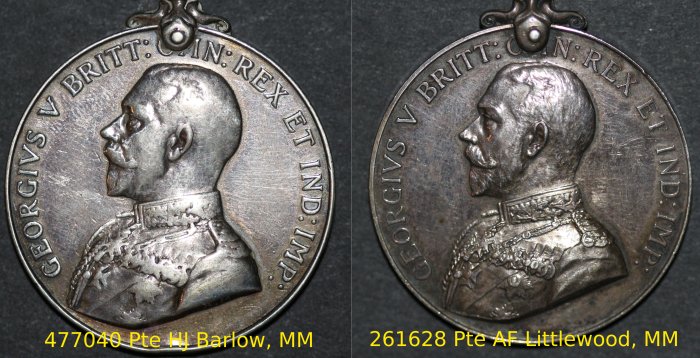 A comparison of the discs of the Military Medals awarded to 477040 Sergeant Harry James Barlow, M.M. (rank of Private on medal) and 261628 Private Arthur Frederick Littlewood.
While well polished medals certainly provide evidence of a soldier who wore his medals often and with pride, the truly poignant ones are those that are in such good condition that they appear to have never been polished for wear. They can, perhaps, hide a story just as important but perhaps forever hidden from our research efforts. (Barlow transferred from The RCR to the RAF near the end of the War. Littlewood was medically released, having lost one arm and much of the use of the other, he lived until 1945.)
For Those Who Choose to Clean:
The Canadian Conservation Institute provides guidance on the care and cleaning of medals and other artifacts:
Basic Care
Basic information for the care and conservation of metal objects.
CCI Notes
CCI Notes deal with topics of interest to those who care for cultural objects. Intended for a broad audience, CCI Notes offer practical advice about issues and questions related to the care, handling, and storage of cultural objects. Many CCI Notes are illustrated, and provide bibliographies.
CCI Technical Bulletins and Other Print Publications
Technical Bulletins provide detailed information of a specialized technical nature about selected conservation and care-of-collections topics, current techniques and principles of conservation of use to curators and conservators of cultural artifacts.
Browse or buy other CCI Publications.
Other heritage or conservation institutions also offer useful advice or helpful information that may be relevant to the care and conservation of metal objects. These sites are external to CCI.
Posted by regimentalrogue at 12:01 AM EDT
Updated: Tuesday, 28 May 2013 12:30 AM EDT