The Queen's South Africa Medal
Topic: Medals


The
Queen's South Africa Medal
, awarded for service in the
Second Boer War (1899-1902)
, was received by 3860 Canadians who served in
Canada's Contingents
to the British Army in South Africa.
The first production of these medals included the year dates on the reverse "1899-1900" since a short war was anticipated. While most of the medals produced with these dates were re-struck, leaving visible "ghost dates" on the back of the disc, at least 50 (and possibly as many as 300) were issued to the soldiers of the Lord Strathcona's Horse before the remaining medals were corrected.
Twenty-six clasps (a.k.a., bars) were authorized for the Queen's South Africa Medal, which vary between being commonly found on medals issued to Canadians to ones that are classed as "extremely rare" or "unknown." Clasps named for States were awarded to mark service within their boundaries and for the many smaller actions that individual clasps would have created too complex a system of clasps for the medal. Also issued were a number of clasps for specific battle or participation in operations within specific areas and time. Finally, there were also the theatre clasps "South Africa 1901" and "South Africa 1902" for service between dates for those not eligible for the subsequently issued King's South Africa medal. The Veterans Affairs Canada webpage for the for the medal lists as common clasp issued to Canadians, the following:
Four of the the five state clasps:

Cape Colony
Orange Free State
Natal
Transvaal

Area or Battle clasps:

Johannesburg
Belfast
Driefontein

Theatre clasps:

South Africa 1901
South Africa 1902
According to the medal collector's reference, the Medal Yearbook, at least four other clasps are known to be issued to Canadians, although other may be extant where individuals were attached to units other than their parent regiments at times during the war. The four identified clasps are:
Rhodesia (the fifth State clasp)
Relief of Mafeking
Paardeberg
Diamond Hill
To the VAC list of commonly issued clasps to Canadians, perhaps, should be added the clasp "Paardeberg", which was awarded to the soldiers of the 2nd (Special Service) Battalion of The Royal Canadian Regiment for its service at the defeat of the Boer General Piet Cronje in February, 1900, at Paardeberg Drift.
For those seeking more detailed information, the excellent British service medals reference "British Battles and Medals" provides descriptions of the eligibility requirements for each of the clasps for the Queen's South Africa medal.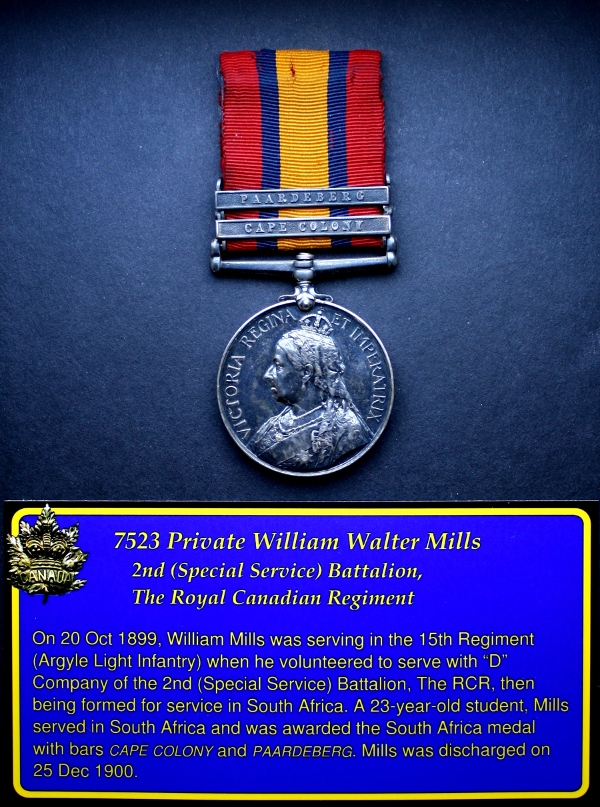 Posted by regimentalrogue at 12:01 AM EDT