The Entrance to the Citadel, Halifax, Nova Scotia
Topic: Halifax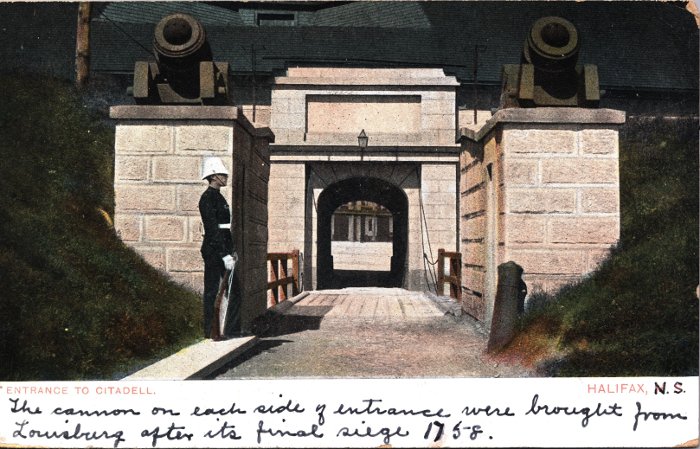 One of the iconic views form
Halifax
,
Nova Scotia
. preserved in generations of postcards, was the entrance to the
Halifax Citadel
. The stone fort on the Halifax peninsula overlooking the harbour, is the fourth set of fortifications at the site and was always the central feature of a system of fortifications that grew over centuries as threats and defensive weapon technologies changed. Even as the fort itself became obsoleted it remains a central feature of the Halifax landscape, consolidating itself as a primary tourism site even as many of the supporting and later independent battery locations fell into disrepair and were forgotten even by the local residents. Some of those outlying batteries can be found in ruins, in areas like
Point Pleasant Park
, other enjoy their own continued maintenance and attention as tourist sites, like
York Redoubt
.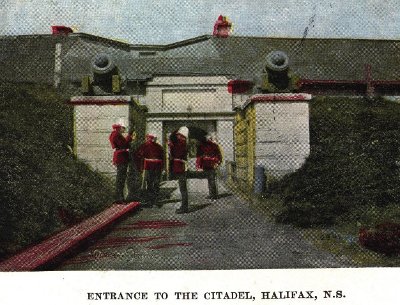 Notable for many over many decades until more recent restoration work, was the placement of two large calibre land service mortars over each side of the entrance. These mortars were brought back from the French Fortress of Louisbourg on Cape Breton Island after the last British defeat of that French stronghold in 1758.
The current view of the entrance from Google maps streetview. (Google maps streetview.)
But the entrance to the Citadel remains a well-known view from Halifax, even though it bears little truly unique features of its own. Wide enough for a single wagon, the passage through the rim of the glacis leads to a wooden bridge crossing the ditch into the fort's interiors. (It's a ditch, not a moat. Ditches are dry, moats are wet.)
A view of the ditch and entryway bridge from the ditch. (Google maps streetview.)
Posted by regimentalrogue at 12:01 AM EDT