The British War Medal
Topic: Medals

The most common medal awarded to Canadians for service in the First World War is the British War Medal. This medal could be issued as the recipient's sole entitlement, or it could be accompanied by the Victory Medal for those who served in a theatre of war, and, for those whose service in theatre started before the end of 1915, the 1914-15 Star. These groupings are colloquially referred to as the First World War "pair" (BWM + VM) and the "trio" (1914-15 Star + BWM + VM). Of these three medals, only the British War medal could be issued as a sole entitlement, i.e., without accompanying medals.
The British War Medal was awarded to any serviceman or woman who served outside Canada's 3-mile limit, thus making those whose wartime service at sea (with a minimum of 28 days of mobilized service required) or on garrison duty in Bermuda eligible for this medal. As with any award, there were "special cases," for example, those who enlisted in the Overseas Military Forces of Canada in the UK were required to then serve outside of the UK to be eligible for the British War Medal.
Authorized for issue on 26 July 1919, most Canadians would have received their BWMs by the early 1920s. It is not unusual to see photographs from that era of soldiers wearing the ribbons for medals they had not yet received, holding place in their incomplete medal groups. Almost 430,000 British War medals were issued to Canadians who served outside of Canada during the Great War.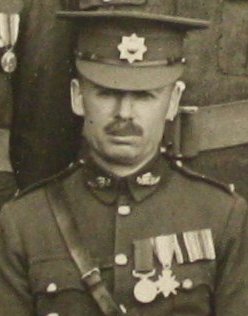 No clasps (bars) were issued for the British War Medal. An
evolving plan
to have clasps for naval and for army service quickly developed into lengthy lists of possible clasps which, given the attendant costs of production and distribution, was laid aside in the post-war economic environment. 68 naval and 79 army clasps were originally proposed, to accompany the approximately 6.5 million BWMs to be issued to Commonwealth soldiers.

Posted by regimentalrogue at 12:01 AM EDT
Updated: Saturday, 16 March 2013 3:41 PM EDT