Corporal Harry Miner, VC, and The RCR
Topic: The RCR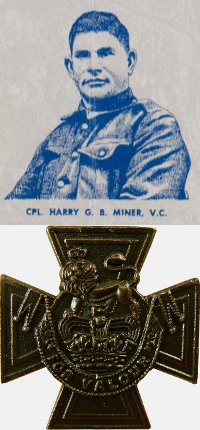 During the First World War, Lieutenant Milton Fowler Gregg of The Royal Canadian Regiment (The RCR) was awarded the Victoria Cross for his actions near Cambrai on 28 September 1918. Forty years later, in 1958, the Regimental Senate of The RCR formally declared that their Regiment would honour all perpetuations of the amalgamated Canadian Fusiliers (City of London Regiment) and The Oxford Rifles. This final stage of amalgamation brought a second Victoria Cross into the regimental lineage of The RCR: Captain Frederick William Campbell of the 1st Canadian Infantry Battalion received the Victoria Cross for actions at Givenchy on 15 June 1915.
But what few know about is The RCR's connection to a third Canadian Victoria Cross recipient.
In addition to the perpetuation of the 1st Canadian Infantry Battalion, The RCR also perpetuates five other battalions of the Canadian Expeditionary Force. These are the 33rd, 71st, 142nd and 168th Canadian Infantry Battalions and the 2nd Battalion of the Canadian Machine Gun Corps. The 142nd Battalion was raised in London, Ontario. One of its recruits was a young farmer from Chatham, Ontario (born in Cedar Springs, ON), named Harry Garnet Bedford Miner.
Harry Miner started with the 142nd Battalion, but transferred to the 161st Battalion before going overseas. Recruited by the 142nd Battalion on 1 December, 1915, Miner was transferred to the 161st battalion on 22 March 1916. Once in France he joined the 58th Canadian Infantry Battalion and while serving in the field with that unit, he was awarded the Victoria Cross. Miner also received the French Croix de Guerre. Harry Miner's Victoria Cross citation for his award was published in the London Gazette on 26 October 1918:
"For most conspicuous bravery and devotion to duty in attack, when despite severe wounds he refused to withdraw. He rushed an enemy machine-gun post single-handed, killed the entire crew and turned the gun on the enemy. Later, with two others, he attacked another enemy machine-gun post, and succeeded in putting the gun out of action. Cpl. Miner then rushed single-handed an enemy bombing post, bayoneting two of the garrison and putting the remainder to flight. He was mortally wounded in the performance of this gallant deed."
Sadly, Harry Miner did not survive the Great War, he Died of Wounds at No. 5 Casualty Clearing Station on 8 August 1918. The
Circumstances of Death
record held by Library and Archives Canada provides the following details:
"On the morning of August 8th, 1918, he went forward with his Company East of Amiens near Demuin. Soon after he encountered an enemy machine gun and as he was trying to capture it, he was severely wounded. He was taken to the nearest dressing station, from there evacuated to No. 5 Casualty Clearing Station where he succumbed."
Harry Garnet Bedford Miner is buried in Crouy British Cemetery, Crouy-sur-Somme, in the Somme region of France.

Posted by regimentalrogue at 12:01 AM EST
Updated: Friday, 1 March 2013 3:25 PM EST