Badges of The Royal Canadian Regiment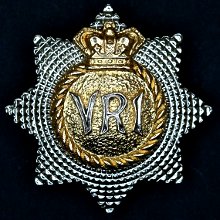 "An eight-pointed diamond cut star; upon the star a raised circle surmounted by the crown; within the raised circle, the block letters "VRI", the Imperial Cypher of Queen Victoria." (Description of the badge of The RCR as presented in Regiments and Corps of the Canadian Army, published by the Army Historical Section, 1964)
Introduction
Lenard Babin states in the introduction to his book Cap Badges of the Canadian Expeditionary Forces 1914-1919 that "the C.E.F. did not trouble too much keeping complete records of their badges." The difficulties he was describing in trying to list and illustrate the many badges of the C.E.F. are all too well known to me now. The C.E.F. are not alone in being remiss at maintaining detailed records of regimental badges, their issues, and designs. In seeking information about the badges of only one regiment, The Royal Canadian Regiment, I have experienced similar frustrations at the paucity of information. The corollary emotion to that frustration is the delight at discovering new badge variations, including some not known to the Regimental Museum in London, Ontario. The regimental badge display in the Museum was collected and donated to the Museum by Capt G.R. Fleming.
The most readily available reference on RCR badges published by the Regiment is found in the first volume of the regimental history: The Royal Canadian Regiment, 1883 - 1933, by R.C. Fetherstonaugh. This volume includes a plate of drawing of RCR badges to 1933 from the collection of Major H.T. Cock, M.C. A scan of this plate may be seen here.
The following pages will describe and display some of the regimental badges of The RCR that I have been fortunate enough to collect. Images of badges outside my own collection will also be displayed, including some that I have only seen in the collection of the Regimental Museum.
While I have attempted to allocate badges to eras, based as much on consideration of details and finishes as much as on major design evolutions, doing so is always a hazardous proposition. Soldiers may well wear a badge for years after its production has ceased, or a variety of patterns may have been in production, or common use, at the same time. These pages give a general categorization based on the era in which certain styles of badges first appeared.
Michael M. O'Leary
Captain
The RCR