The Royal Canadian Regiment and
The First World War - 1914-1919
Hamburg Cemetery
Hamburg is a large city in the north of Germany, approx 150kms to the north of Hannover. Hamburg Ohlsdorf Cemetery (Friedhof Ohlsdorf) is the biggest non-military cemetery in the world. There are 3 Commonwealth War Graves plots located within Hamburg Ohlsdorf Cemetery:- Hamburg Cemetery Ohlsdorf 1914-1918 / Hamburg Cemetery Ohlsdorf 1939-1945 / Hamburg Cemetery Ohlsdorf Post War. From the A7 Hannover to Hamburg motorway take exit 23 (Ausfahrt 23) B432 NORDERSTEDT / HAMBURG AIRPORT / LANGENHORN. Follow the signs for B432 HAMBURG AIRPORT / LANGENHORN along the OLDESLOERSTRASSE. After approx 1.5kms keep right onto the B433 SWEBENWEG and continue to follow the signs for HAMBURG AIRPORT / LANGENHORN. Continue for approx 1.5kms and keep left onto the KROHNSTEIG for approx 2.5kms until the junction with LAGENHORNER CHAUSEE. Turn right onto the LAGENHORNER CHAUSEE and continue for approx 2kms. Turn left onto ERDKAMPSEWEG direction BARMBEK and continue for approx 2kms, during which the road name changes to RATSMÜHLENDAMM and then FUHLBÜTTLERSTRASSE. Immediately before the railway bridge turn right (signposted FRIEDHOF OHLSDORF) onto IM GRÜNEN GRUNDE and continue for approx 500m. Turn left onto ALSTERDORFER STRASSE, go under the railway bridge and continue for 200m to the junction with FUHLBÜTTLERSTRASSE. The main entrance to Hamburg Ohlsdorf Cemetery (Friedhof Ohlsdorf) is directly in front of you. The 3 Commonwealth War Graves plots are located approx 3kms from the main entrance and are clearly signposted. Follow direction for KAPELLE 12 for approx 2.5kms along the CORDESALLEE / SÜDALLEE / MITTELALLEE, turn right and continue past KAPELLE 12, turn right onto LÄRCHENALLEE and after approx 300m the cemeteries can be found on the left and right. Visitors are advised that there is a strictly controlled 30km/hour speed limit within the boundaries of Hamburg Ohlsdorf Cemetery (Friedhof Ohlsdorf). Please note also that it is illegal to turn left from FUHLBÜTTLERSTRASSE into the Hamburg Ohlsdorf Cemetery (Friedhof Ohlsdorf) The cemetery address is:- Friedhof Ohlsdorf Fuhlsbüttlerstrasse 756 22337 Hamburg Germany GPS Location is:- N 53 37 20 E 10 04 01
For more information -CWGC
Royal Canadians buried at the Hamburg Cemetery are listed below.
Regt. No.
Rank.
Given Names.
Surname.
Date of Death.
Remarks.
CVWM/CWGC Link; Grave Ref.
478685
Pte
Fenwick Reuben W.
PERNETTE
05-Dec-16
CVWM
I. H. 3.
477783
Pte
William Henry
ROBERTS
22-Oct-16
CVWM
II. D. 7.
455912
Pte
Wilfred Gordon
STOODLEY
05-Nov-16
CVWM
II. B. II.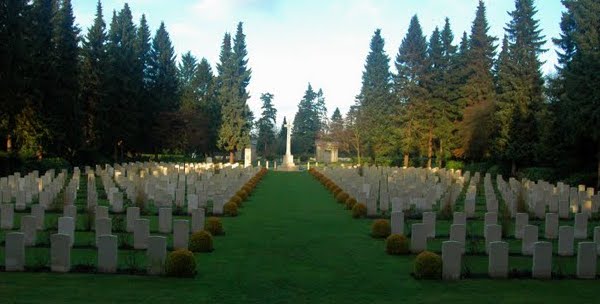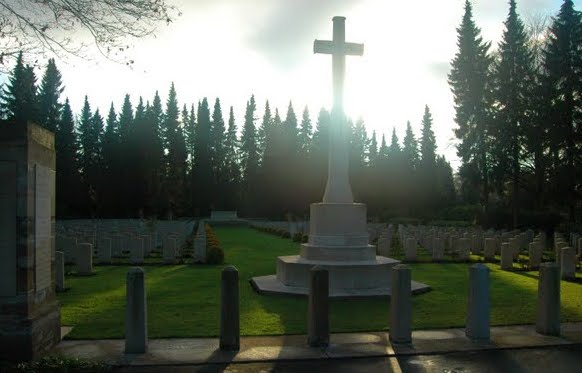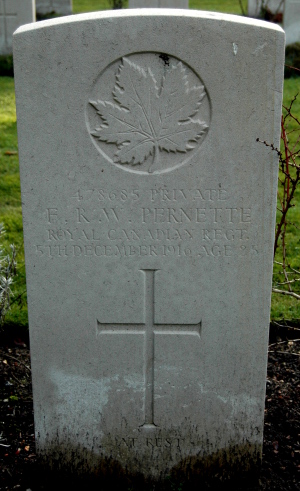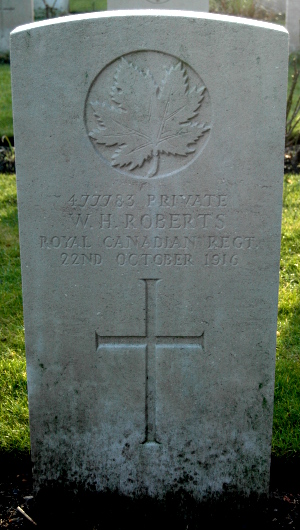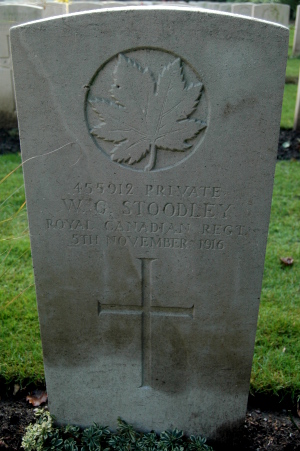 Photos by Leif Carl.
Pro Patria