The Royal Canadian Regiment and
The First World War - 1914-1919
Boulogne Eastern Cemetery
Boulogne-sur-Mer is a large Channel port. Boulogne Eastern Cemetery, one of the town cemeteries, lies in the district of St Martin Boulogne, just beyond the eastern (Chateau) corner of the Citadel (Haute-Ville). The cemetery is a large civil cemetery, split in two by the Rue de Dringhem, just south of the main road (RN42) to St Omer. The Commonwealth War Graves plot is located down the western edge of the southern section of the cemetery, with an entrance in the Rue de Dringhen. Car parking is available along the Rue de Dringhen.
For more information - CWGC
Royal Canadians buried at the Boulogne Eastern Cemetery are listed below.
Regt. No.
Rank.
Given Names.
Surname.
Date of Death.
Remarks.
CVWM/CWGC Link; Grave Ref.
552700
Pte
Condrad
ALLISSON
21-Apr-17
CVWM
IV. C. 17.
818028
Pte
Alexander Richard
BROWN
18-Apr-17
CVWM
IV. C. 3.
739524
L-Cpl
Henry James
BUNTON
12-Apr-17
CVWM
IV. D. 11.
477158
Pte
Charles Wilfred
CARROTHERS
06-Jun-16
CVWM
VIII. B. 88.
229274
Pte
Clifford
DAVIES
24-Sep-16
CVWM
VIII. C. 156.
444833
Pte
Aurele
GUIMOND
13-Apr-17
CVWM
IV. D. 11.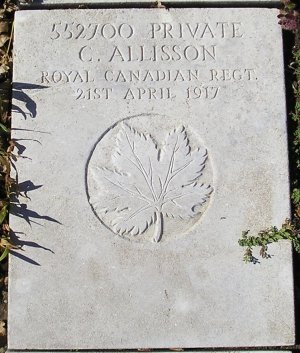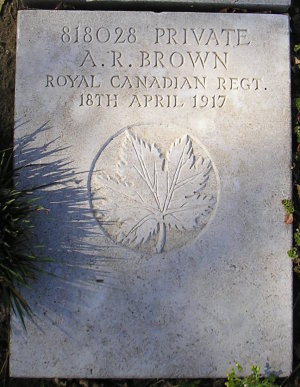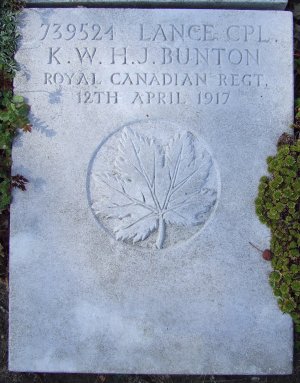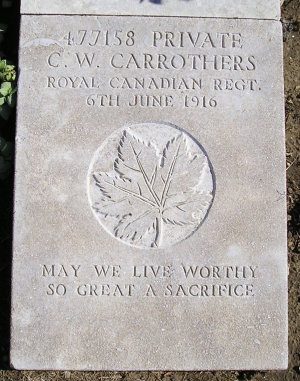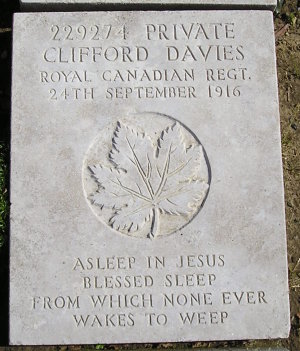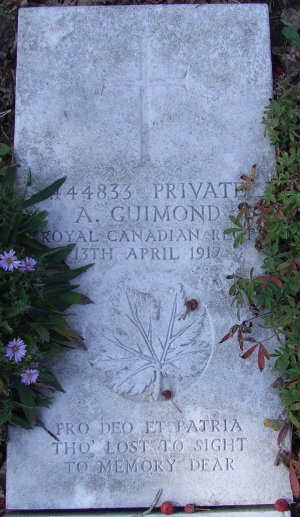 Photos by Mick McCann, a member of British War Graves.
---
Photos of these gravestones were also generously provided by Mr. M.J.B. Harvey, a member of the Great War Forum. As it turned out, the vagaries of lighting, shadows and the stones themselves resulted in somewhat clearer images by Mr. McCann. I remain grateful for Mr Harvey's contributions.
Pro Patria